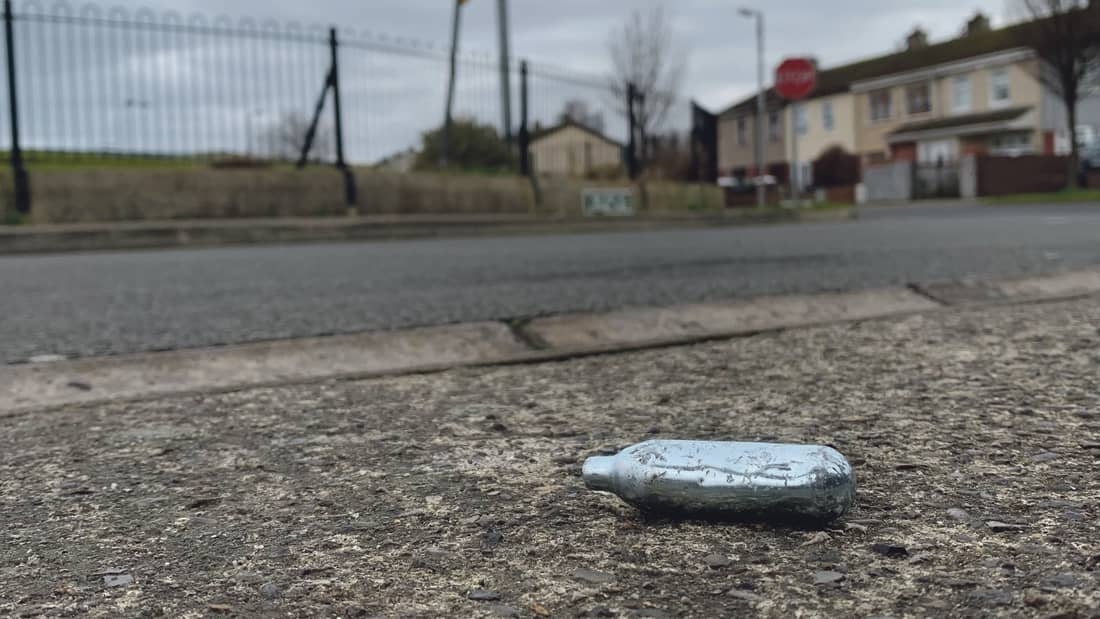 Growing concerns at increase in use of nitrous oxide cannisters
By Hayden Moore
THERE are growing concerns across South Dublin around the apparent re-emergence and continued recreational use of nitrous oxide canisters.
Commonly referred to as silver bullets, the canisters contain nitrous oxide gas and are typically used in the catering industry or clinically as an anaesthetic for pain-relief – but the number of young people inhaling the gas has continued to increase.
Discarded Nitrous Oxide canister in Fettercairn, Tallaght'
The number of discarded canisters found scattered on streets across the county have increased in recent weeks and Cllr Derren Ó Brádaigh (SF) has expressed his concern.
"The prevalence of these cannisters left strewn around our streets on a regular basis has become an all too common sight," said the new Lucan-Plamerstown and North Clondalkin county councillor.
"Whilst I understand many have spoken out on this already, including my own colleague Mark Ward TD, the increased misuse of nitrous oxide as an inhalant, appears to have re-emerged to the same widespread scale as we were witnessing at the outbreak of the Covid-19 pandemic early last year.
"Whilst it was welcome news that the HSE had included information about the misuse of nitrous oxide HERE, this does not go far enough to tackle the ongoing problem.
"It would seem to me that the current upsurge once again in the misuse of these 'silver bullets' can be timed with the recent lockdown period.
"I appreciate that this may be coincidental, however I feel that there is strong enough evidence to warrant closer scrutiny."
Teenagers and youths are misusing the gas in an effort for a quick and cheap high, by releasing the gas from canisters into balloons and inhaling it.
The HSE first warned young people of the risks associated with misusing nitrous oxide last January and warned them not to inhale the substance also known as laughing gas.
Inhaling the gas can have devastating effects including the potential to displace air in the lungs, stopping oxygen from entering the blood flow and ultimately increasing the heart rate.
"They are considered a gateway drug and as such can result in a progression to experimenting with more serious drugs and substances," added Cllr Ó Brádaigh.
"Risks associated with the inhalation of this gas are dangerous and can cause a drop in oxygen levels increasing heart rate.
"People with heart, blood pressure or mental health concerns may be at even greater risk.
"Only last week, I contacted the council highlighting locations of discarded cannisters and requesting the cleansing of certain streets/areas on behalf of residents specifically in this regard.
"The congregation of groups in the course of misusing this product and the general littering, noise and anti-social behaviour that follows is extremely intimidating for local residents."
For further details visit HSE, DRUGS or visit the Clondalkin Drug and Alcohol Task Force or Tallaght Drugs and Alcohol Task Force website for support or a list of local drug projects.
By subscribing to The Echo you are supporting your local newspaper Click Here: Echo Online.