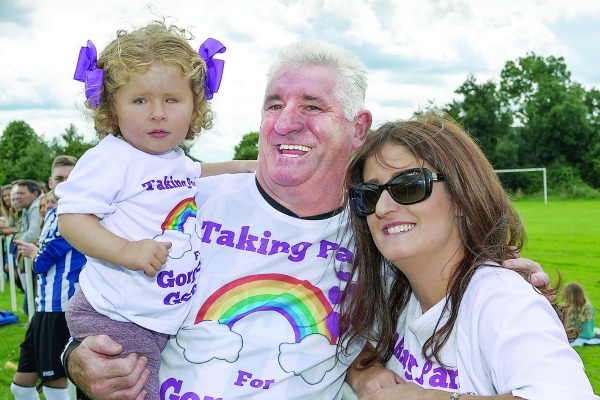 Little gorgeous Georgia captures all our hearts
By Maurice Garvey
RESIDENTS hosted a charity football match at the Coldcut Club on Sunday, to raise funds for a young girl born with no vision. The football fundraiser was held in aid of Clondalkin youngster Georgia Byrne (1).
Funds raised from the match and a Go Fund Me page set up by players, will go towards a sensory room in the home of Georgia's parents Michael Byrne and Aishling Long.
Robert Garvey, a neighbour of the family, is involved in the annual charity football match at Coldcut.
"This year's chosen charity game is for gorgeous Georgia," said Robert.
"It's close to home. She is a niece of David Long who has been involved in this charity since day one. This year is the fifth annual charity game – we've raised over €15,000 for chosen charities like Pieta House, Feileacain and Irish Cancer Society, to name a few."
Between National Council for the BIind Ireland and Childvision, Georgia attends both three times a week for only three hours.
Robert says money raised will go towards her future development, as well as a sensory room which will "help her massively in the years to come."
Michael Byrne told The Echo: "Georgia is going grand. We got the grant for the sensory room, and we're just waiting to hear back from South Dublin County Council. Everything has been great, people have been doing mini marathons and to Hell and Back.
"As far as we know, she can see lights and shapes but it is limited. She is blind in one eye but holds food up close to her mouth. The sensory room will stimulate her mind. We are lucky the charity chose her."
Anyone who would like to make a donation can visit www.gofundme.com/2d8tcjpr
Check out this week's Echo for more pictures from the event.