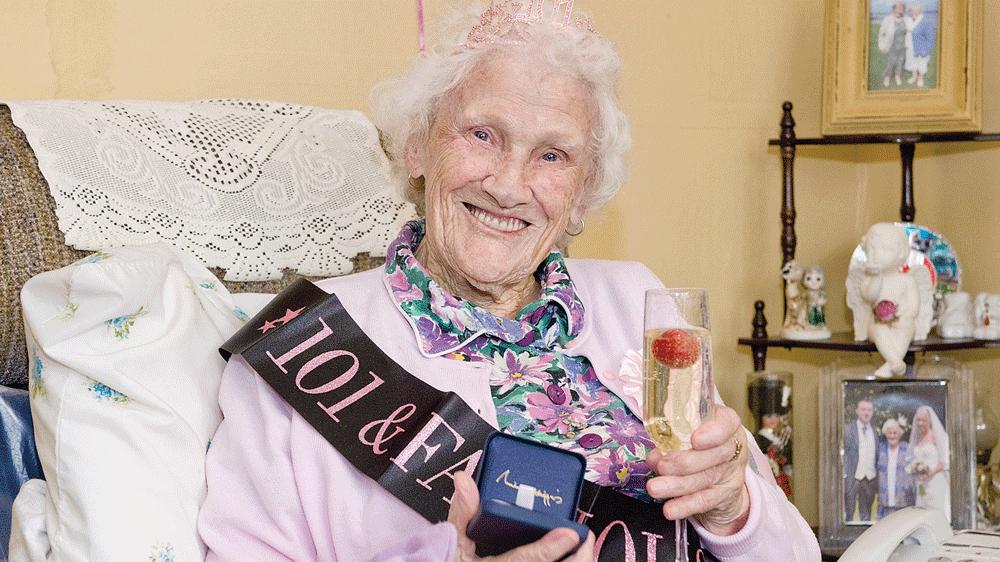 Local Faces: Molly Delaney
AFTER becoming a centenarian last year, Molly Delaney is reeling after receiving a special congratulatory letter and commemorative coin from President Michael D Higgins on her 101st birthday.
"You just go with the flow, live well, eat well, drink well, be merry and take an odd sup," the Newcastle resident tells The Echo with a chuckle.
"I'd have an odd sip of Bailey's, but I'm only a little woman, just the one and I've had enough.
"I got my cheque last year, now I won't tell you what I did with the cheque, and I got a lovely big medal then this year, says Aras an Uachtarain on it, just for still being here.
"I'm going to frame it because I have it on the mantlepiece at the moment and its heavy."
Molly was born on September 15, 1920, the youngest of eight children to Elizabeth and Patrick Doyle. She grew up on a small family farm in Ballywilliam, just outside New Ross in Co Wexford.
"It was too good in our house, we had a small farm and I'd spend most of the time out playing with the dogs," she remembers.
"However, my mother died when I was just four and that was difficult.
"My father was left with the eight children and it was hard on him, he was in his forties when he started having children you see.
"But he was a good dad, he always tried his best and looked after us. After our mother died, you'd try help as much as you can but someone came to look after us then."
Elizabeth's sister Bridget started to help looking after the children and in 1930, when Molly was 10-years-old, she moved to Co Carlow with her aunt.
She lived in Carlow for six years, making her confirmation and finishing school before moving to Dublin.
"I went back home to Wexford and my sister came up to Dublin first, then when I was 18 I followed her up," Molly recounts.
"She was doing domestic work and I started doing that in a big house in Rathfarnham, then I was in Esker House with Mr Eamonn Dwyer.
"He was a milk supplier to a lot of Lucan, back when milk was in the glass bottles.
"After that they moved to Tipperary and I was moving around like a spare bed until I met the man I thought was the man of my life, Patrick Delaney."
Patrick Delaney worked in the gardens of the home where a 23-year-old Molly was working at the time.
The young couple moved around a bit, spending a period of time in Killinarden and Brittas before eventually settling in Newcastle towards the tail end of the 1960s.
"We were in Gibney's in Killinarden, they gave us a home on the farm for a while," Molly says.
"Back then you couldn't get a house off the council unless you had three children, and I only had the two at the time.
"There was nothing around Killinarden at the time, only land – totally different to how it is today with all the houses.
"I had seven abodes before I settled down completely. We moved to Brittas and that was our first house, we were there for about 10-year I'd say and then we went over to Newcastle."
Molly and Paddy had eight children, the eldest of which is Seamus, who is 76, and the youngest of which is Paula, who is 54.
Over the years, with her husband Paddy being a gardener, Molly started to take great care of her garden and fell in love with it.
"I love my garden, oh yes, I love my garden," she says, with a particular excitement.
"I grew all sorts of vegetables back in the day, cabbages, potatoes, carrots, turnips, anything.
"Of course we'd eat it all as well.
"I've only a small garden now, we built a house for my son PJ in half of the garden.
"But my daughter Paula looks after it for me, she'd keep it well."
A keen dancer in her day, Molly would be no stranger to a good Ceile and even today, despite her legs not being as strong as they once were, she finds the room to groove in her chair.
Molly loves music and has particular grá for the work of Joe Dolan, Philomena Begley, Dickie Rock and Red Hurley.
"My family come in and out, they feed me and look after me," the great-grandmother of 30 and grandmother of 22 says.
"I used to go to Daycare in Rathcoole but that stopped with the Covid, and my feet aren't too good either.
"I sit in my chair and I'm happy in myself, I take it from day to day.
"I get up, go around and I'm thankful for everyday.
"Look, life is a bit of fun and I enjoy it – it's all water under the bridge. I like to reminisce and think back to the old days, I have a good memory and that keeps me going."