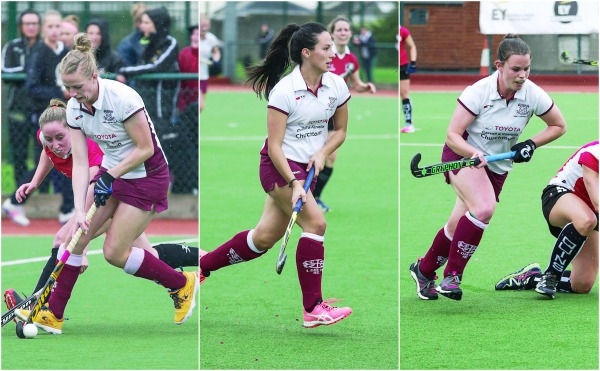 Loreto take a big point in EY debut
By Stephen Leonard
LORETO salvaged an important point in their first weekend competing in the Women's EY Hockey League.
In what was a double-header weekend, the Beaufort side was edged out 1-0 by Cork Harlequins at home on Saturday before battling out a nail-biting 2-2 draw with UCD the following day.
In the opening match, Cork debutante Naomi Carroll served up the decisive score after Loreto had carved out a couple of early openings.
They made a brighter start in Belfield, taking the lead when Hayley Mulcahy produced a stunning backhand strike to the target after four minutes.
Yet goals from Katie Mullen and Emma Russell saw this deficit turned on its head, only for Loreto to restore parity late on when Sarah Evans won a corner that was worked into the path of Hannah McDermott by Hannah McLoughlin and she steered it home.
Loreto still had to weather a late surge with goalkeeper Louisa Healy pulling off three fine stops to help ensure her side had something to show for their efforts.
Looking at the opposition his side were up against Loreto coach Paul Fitzpatrick said "I think that those two teams [Cork and UCD] are very strong" said Fitzpatrick.
"Against Harlequins we didn't get up to the tempo quick enough and while I think Harlequins would have been disappointed not to get anything from that game, a draw would have probably been a fair result.
"At times we were good and the statistics are pretty much the same, they had four corners and we had three, but playing at this level the year beforehand really stood to them and us not playing in this league hampered us.
"Against UCD our ball speed and tempo were very much improved and, while we could have lost the match late on, we could also have won it, so I think the draw was a fair result.
"It was important for us to get the point, to be able to show that we can compete at this level.
"These games were good also because I got to see a lot of the newer players playing in different positions.
"There has been huge movement of players up to this level. I think most of the teams have brought in somewhere between three and even ten new players, and so the competition for places is huge.
"It raises the standard and that will have a knock-on effect for the provincial and national teams," he stressed.
Next up for Loreto will be the arrival of Ards on Saturday with a trip to Hermes coming up the following week.