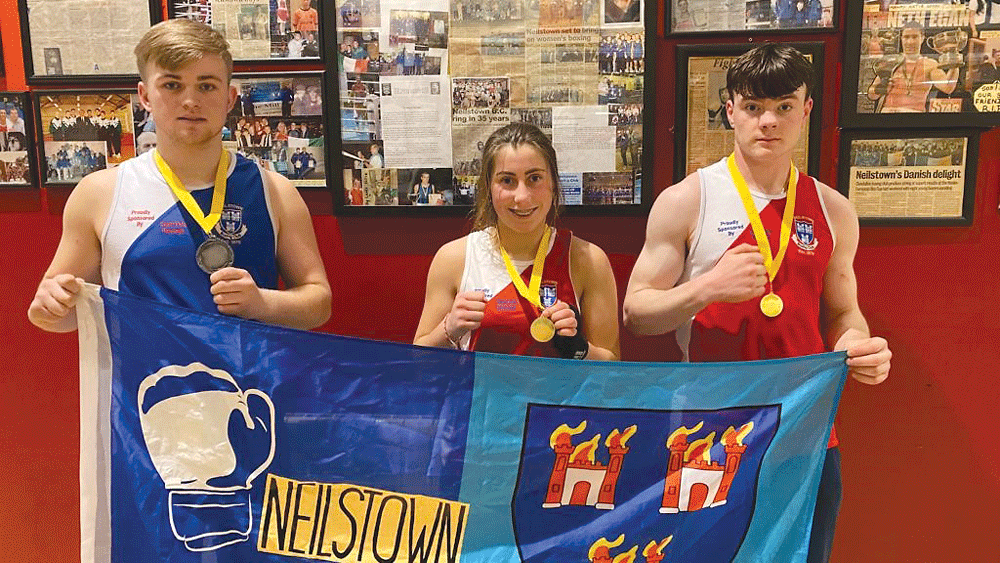 Neilstown make it a double in National Under 18 Finals
NEILSTOWN Boxing Club saw two of the three boxers they fielded in Friday's National Under 18 Championship Finals emerge with titles to their name.
While former European Junior silver medallist, Winnie Christina McDonagh was handed a walkover in the 63kg division, her clubmate Ryan Murphy completed his march to the light heavyweight crown in the National Stadium after taking a unanimous decision against Thomas Quinn McDonagh of Tredagh Boxing Club.
Completing the line-up for Neilstown in the finals was Joe Hutchinson who, despite, taking the first round in his 92kg decider against David McDonagh of Olympic Boxing Club, ultimately emerged on the unfavourable side of 4-1 split.
Murphy's victory was all the more remarkable given the fact that he has only turned 16, and Neilstown coach was full of praise for his very composed display on Friday, telling The Echo "Ryan won the three rounds by boxing.
"These boxers were all new to the three three-minute rounds, but Ryan was very comfortable.
"He took his time in each round and gave his opponent a standing count in the second after catching him nicely with a short left hook and pinning him back.
"From there he just got stronger and took control of the fight. It was a very comfortable win for him.
"In fairness, his opponent kept coming at him, kept putting the pressure on, but Ryan dealt with it very well.
"He's only 16-years-old and he's added that bit of boxing to his game. Beforehand Ryan would always be in for a tear-up, but we talked to him and we got his boxing game going" he explained.
Both Murphy and McDonagh have now earned their place on the Ireland squad ahead of the European Under 18 Championships set to take place in Bulgaria in April.
And while Hutchinson will be disappointed he fell short of that target following his loss to McDonagh in Friday's title bout, the six-time National champion is expected to bounce back very strongly.
Indeed coach Fleming has indicated that he will drop down a weight division ahead of other championships scheduled for later in the year.
Having contested no less than eight All-Ireland Finals, Hutchinson is one of Neilstown's most successful competitors.
He, along with Murphy and McDonagh, have been competing for the club since the age of 10 and the three boxers, between them, have amassed a haul of 20 national titles.