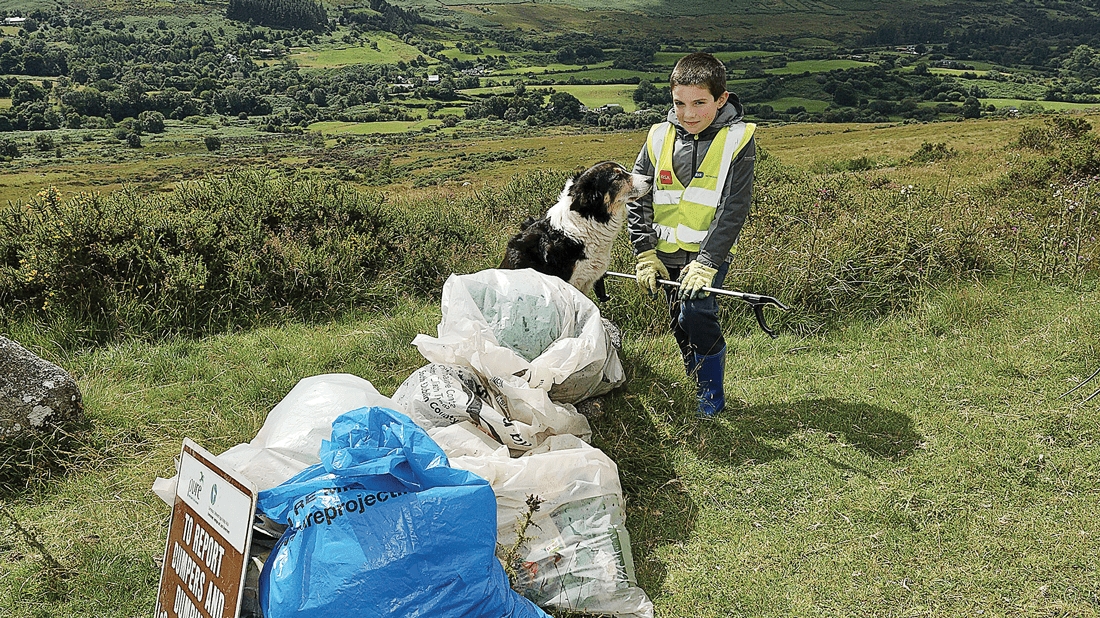 Nine-year-old awarded for efforts at Pure Mile Awards
By Mary Dennehy
A NINE-year-old boy from Bohernabreena was among a number of locals recognised for their enduring efforts in preserving and protecting the South Dublin uplands.
This week, the achievements of Pure Mile volunteers were recognised, and their environmental achievements in caring for the uplands celebrated.
Christopher Collins
Groups from South Dublin County have in recent years organised regular clean-ups in areas such as Piperstown, Cunard, Castle Kelly, Glenasmole, Kilakee, Military Road, Cruagh, Ballybetagh and Glenasmole.
They've removed considerable amounts of litter and illegally dumped waste from the local landscape, which, looking down on Tallaght and Rathfarnham, not only supports a vibrant eco-system but provides a much needed breath of fresh air for people living across South Dublin.
Despite the Pure Mile Gala Awards being cancelled this year, volunteers were still celebrated this week, when this year's winners were announced over the air waves on Tuesday.
Pure Mile is an initiative of the Pure project and aims to create a greater awareness of the Wicklow/Dublin uplands by encouraging people to improve and enhance their area or a mile of rural road.
Local groups that received recognition include, The Atha Cliath Pure Mile Group and the Glencree Walking Group, which were recipients of The Clean-up the Uplands Awards.
Volunteers organised a massive clean-up, which saw the removal of 3.5 tonnes (3,500kg) of illegal dumping from the road running from Kilakee car park to Military Road, Glencree, Sally Gap, Piperstown, Cunard and into Glenasmole.
The Best Clean-Up Award went to a new group called the Cunard Glenasmole Pure Mile.
This group of volunteers have concentrated their efforts in clean-ups of areas across the South Dublin Uplands, including Piperstown, Cunard, Glenasmole and Castle Kelly.
A special award was also presented to Christopher Collins, a nine-year-old boy from Bohernabreena, who has assisted with these concentrated clean-ups.
Christopher was given a Certificate of Recognition Award for the Pure Mile Youth Ambassador 2020.
The Glenasmole National School student featured in The Echo in July when he was cleaning up his area once or twice a week – and challenging people living in and visiting the area to do more for their local environment and its wildlife.
Christopher also communicates with South Dublin County Council about issues of litter and illegal dumping in rural communities.
According to Ian Davis, Pure Project Manager: "Due to Covid-19 we saw an increase in people getting involved in the Pure Mile and more people were walking their local roads, rediscovering their local areas, becoming more aware of their natural environment and landscape, the flora and fauna, and appreciating their built heritage.
"People decided to organise litter picks of their local roads, removing litter and rubbish from the verges, hedges, and drains, and they have made a huge difference to the areas they live in or recreate in.
"It's amazing the amount of time, effort, and enthusiasm that groups invest in the Pure Mile, and it's an absolute pleasure meeting them, and getting to know them."
For further information email info@pureproject or visit www.pureproject.ie.
By subscribing to The Echo you are supporting your local newspaper Click Here: Echo Online.