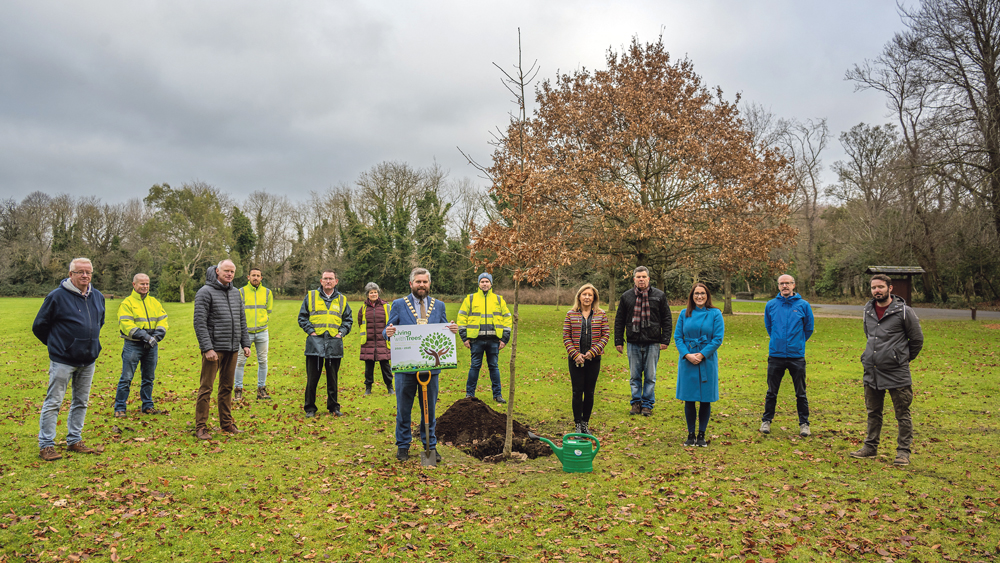 Planting an oak for prosperity and shelter
The Mayor of South Dublin County Council planted an oak tree in Corkagh Park, last Monday (December 20) to highlight the importance of our native trees.
Quercus petraea – the Dair ghaelach or the traditional Irish Oak – is the sessile native oak and at the launch Mayor Peter Kavanagh said: "Trees provide great benefits in so many ways – economic, social, environmental, ecological and aesthetic benefits, as well as enhancing biodiversity and mitigating Climate Change. They contribute to the character, appearance, and wellbeing of the county. This Tree Management Policy, 'Living with Trees' 2021-26, represents our ongoing commitment to look after and enhance one of our most valuable natural resources.
"Planting this oak tree marks the launch of the county's second Tree Management Policy. This oak will grow, prosper and provide shelter and beauty for visitors to Corkagh Park for hundreds of years."
'Living with Trees' 2021-2026 – the Tree Management Policy for the next five years, will continue to highlight the importance of trees in the county.
The main objectives of the Policy are:
1.To continue to implement a proactive tree management programme.
2.To expand the tree canopy in the county.
3.To implement a public awareness and education programme.
This policy allows for a pro-active and systematic approach to tree management, resulting in a healthier tree population and creating a greener, more sustainable environment for residents and visitors to the county.