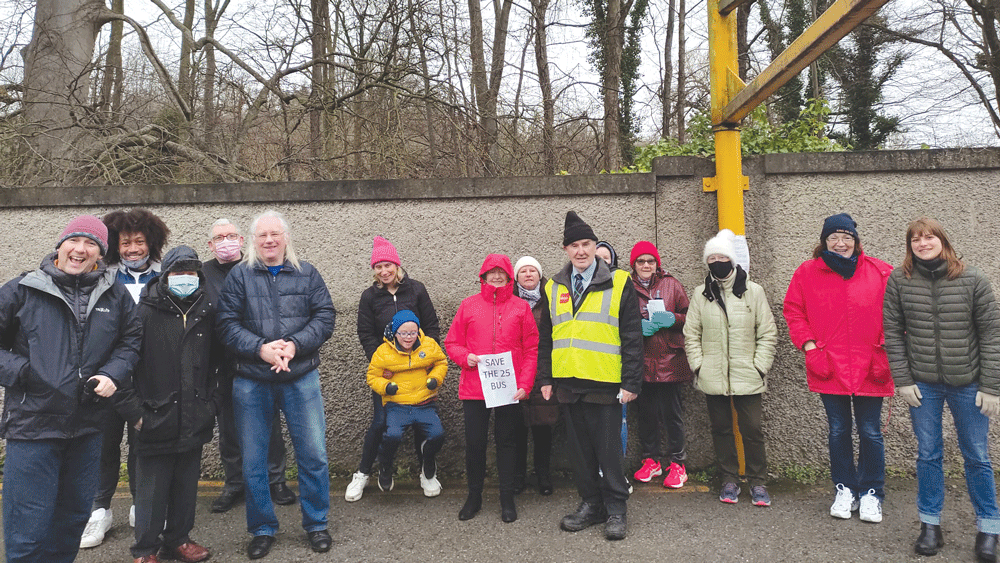 Residents ask NTA to 'walk in their shoes' during protest
LUCAN residents have asked the National Transport Authority (NTA) to "walk in their shoes" in a protest against changes to BusConnects routes.
Last Saturday, February 5, residents in the Dodsboro area in Lucan took part in a protest calling on the NTA to revise the plan and bring back the direct bus to the city centre, which is the old 25 bus route.
The residents walked from the crossroads of Shackleton Drive to Lucan Demesne to highlight the 1.1km walk to the bus stop for the city centre.
As recently reported by The Echo, Residents in the Dodsboro/Hillcrest areas of Lucan have been speaking out about their feelings of "disconnect" as they have lost the direct bus into the city centre and a vital bus stop at Super Valu, after the replacement bus X30 only operates at peak times.
The second phase of the new BusConnects network, which will serve areas including Lucan, Adamstown, Liffey Valley and Palmerstown commenced in early December last year and has been met with mixed reactions from residents.
The event last weekend was organised by People Before Profit TD for Dublin Midwest Gino Kenny, who said that he has been highlighting the issue of the loss of the 25 bus since BusConnects was initially proposed.
"For many areas BusConnects have meant an improved bus service which is welcome. Residents in the Dodsboro area they are at a real disadvantage since the 25 bus was cancelled," he said.
"This particularly disadvantages people with disabilities, those with small children or older people because of the long walk up- and down-hill to the bus stop.
"I have met with the NTA and raised all the concerns from residents, and they have said that they will review the service and meet with representatives again in March. I will be continuing to argue for improved bus services in the area, increased frequency of the X30 and the routing of the C2 bus through Shackleton."