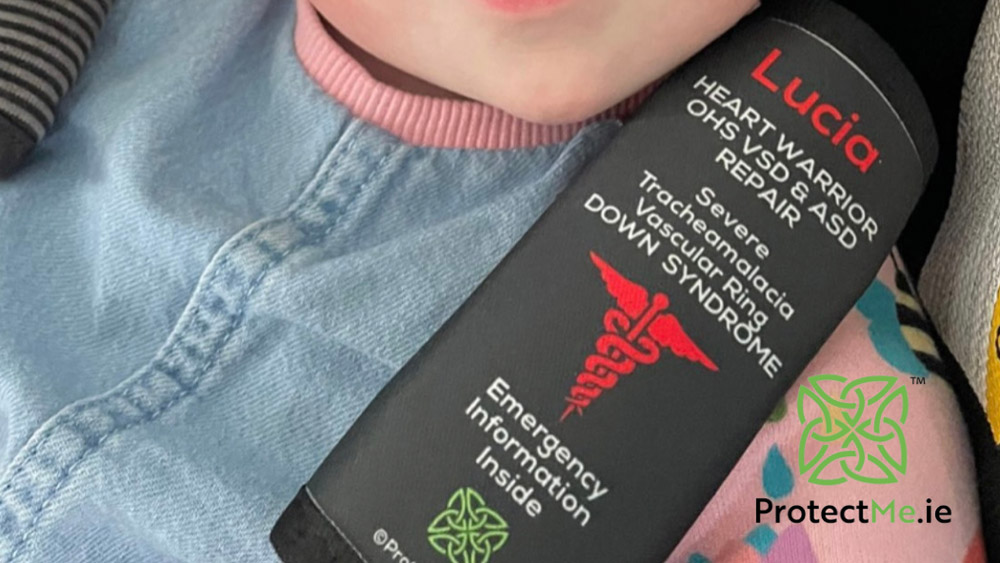 Seatbelt covers that provide critical medical information
A BUSINESS that designs and sells seatbelt covers which display critical information such as medical conditions and allergies have brought necessary 'life-saving' products to the Irish market.
Mother-of-four Emma McCloskey started ProtectMe.ie during the pandemic after she discovered a gap in the Irish market for products to display medical information and hidden conditions and illnesses.
The business, which is registered in Rathfarnham, designs and sells bespoke ProtectMe Belts, which displays information such as medical conditions, syndromes and allergies for First Aid responders and Emergency Services.
Speaking about how ProtectMe.ie was started, Emma told The Echo: "It is essentially a Covid-born business. Somebody needed some information for their car to do with a medical condition and it couldn't be found in Ireland.
"I am a crafty person and I make things all of the time, so somebody had asked me to make something similar to the belts for their car and sent me some photos of what they were looking for from the internet."
The product Emma made was well received, prompting her to do more research into them when she discovered a huge gap in the Irish market for seatbelt covers that display critical medical information.
"I just thought 'why is it not available here?', it is so important and also because of Brexit, things are so expensive to import. With so many medical conditions, I just thought this needs to be available in Ireland," explained Emma.
"The more I looked into this and saw how few products there are in Ireland for people with hidden disabilities and allergies, there was nothing."
A few months after she set up the company, Emma approached the Local Enterprise Office (LEO) South Dublin for guidance.
"I didn't know much about LEO, but a lot of people encouraged me to go to them even when I thought the business was quite premature," said Emma. "Since I approached them, I have been assigned a mentor, and I have to say they are fantastic, and I really regret not going to them at idea stage.
"Anybody with a business idea should approach LEO because they are so helpful, they have been unbelievable."
Speaking about the growing business, Emma said: "We are very much building on our products at the moment, and eventually the goal for ProtectMe.ie is that it will be the platform to go to if you have any child with an allergy, hidden disability or a medical condition," said Emma.
"Since I started the business, I have received so many messages and emails from up and down the country from people looking for products such as feeding bags, ID bracelets and anything like that – there is a really big market."