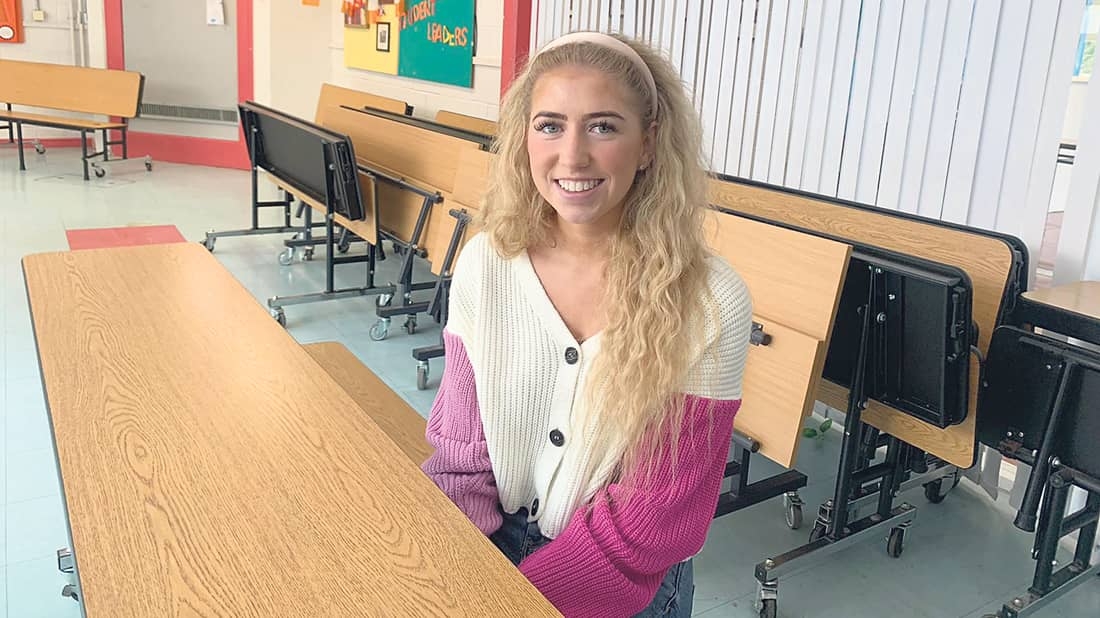 Students are a class act
By Maurice Garvey
A 'RISING TIDE' in Ballyfermot secondary schools since the millennium has increased the number of students going on to third level education – many of whom are the first in their family to go to college.
Just six years ago Higher Education Authority (HEA) figures showed a major discrepancy in third level progression with only 16 per cent of those in Dublin 10 going on to third level education – compared to 82 per cent in Dublin 6W.
Carley Sheil from St Dominic's College
However, this year, secondary schools in Ballyfermot enjoyed a "record breaking year" with some of their numbers, which include St Dominic's College seeing approximately 83 per cent progression to higher and third level education - a slight increase in their five-year-average progression rates.
St John's College saw a 15 per cent improvement on previous progression rates in 2019.
Caritas College with a proud tradition of 50 per cent of graduates consistently accepting college places in recent years, has celebrated students in the class of 2020 progressing to courses such as Accounting, Business, Psychology, Social Studies and Arts.
No previous years had to deal with the anxiety Leaving Cert 2020 presented thanks to Covid-19, which closed schools in the middle of March.
Despite this, Ethan Mooney from St John's College, Ballyfermot scored a perfect 600 points in his Leaving Cert and received an offer of his top CAO choice, International Business and Languages in DIT.
Jack Dempsey from St John's College
Principal of St John's College, Ann Marie Leonard, said 50 per cent of her students achieved over 300 points.
Mary De Silva, a recent graduate from St Dominic's College in Ballyfermot achieved the school's highest ever LC score with 601 points.
It was a record breaking year for the school where the average points for the top ten performing LC students was over 450 points.
Mary De Silva
St Dominic's principal, Sarah Green, praised Mary as an "exceptional and gifted student" who overcome adversities throughout her secondary education.
"She is ambitious for her future studies, having always dreamed of studying pharmacy in university. Mary's dream became a reality when she received an offer to study pharmacy in Trinity College Dublin," said Ms Green.
Principals in Ballyfermot point to an "impressive trend" in the area with more and more students progressing to higher and further education every year, and some breaking new ground by becoming the first members of their family to progress to university.
Another first time family member to go to college is Carley Sheil, St Dominic's College, who started her orientation in TCD this week for her course in Occupation Therapy.
Sheil said she wishes to "inspire all my little cousins to work hard so they can go on to university too."
Jack Dempsey, St John's College, Class of 2020, is also the first member of his family to progress to higher education.
Next week he will start studying Film and Broadcasting in DIT, the course that was always his first choice on the CAO.
Jack's proudest moments include achieving amongst the school's highest JC and LC results.
In recent years, local secondary schools in Ballyfermot have worked hard to realise their collective vision to improve outcomes for students from Ballyfermot.
According to the students, the key to their success is the support they experienced in school from their teachers.
Jack Dempsey found St John's "motivating".
"Teachers and students encourage you to do well in each subject. The teachers are fantastic, always up to do extra classes or correct extra work," he said.
The impact of student-teacher relationships is reiterated by Sheil who describes her class tutor as "her rock for six years" and says teachers gave her the "push" she needed at times by offering her advice and reminding her of her potential.
By subscribing to The Echo you are supporting your local newspaper Click Here: Echo Online.