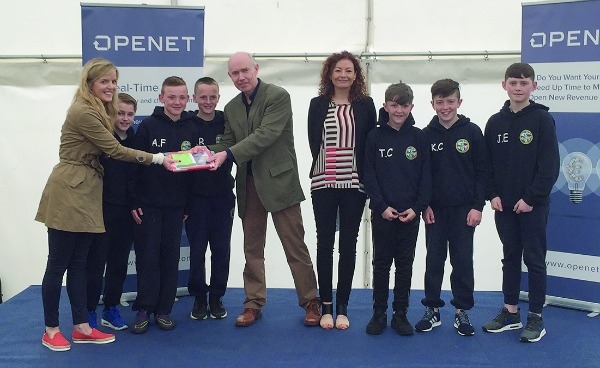 Students business idea raises much-needed funds for school
By Maurice Garvey
YOUNG students in Ballyfermot showcased their entrepreneurial talent by developing a business plan and manufacturing customised hoodies for their school.
A group of sixth class students at Mary Queen of Angels got involved in the initiative, after signing up for the Junior Entrepreneur Programme (JEP) earlier this year.
The group worked together to get customised hoodies manufactured for the school and sell them to the pupils, according to Caitriona Saunderson, Homes School Community Liaison Coordinator with Mary Queen of Angels.
Ms Saunderson said: "As part of the JEP, students TJ Cosgrave, Séan Russell, Kian Corbally, Andrew Farrell, Jack Monks and Jack Evans, came up with a business idea and presented it to the two principals, and a business man from Ernst & Young, and they picked Jack Evan's hoodie business.
"The hoodies were on sale in the school for the month of March for between €20-30. The boys made a huge profit on them – of which they took €50 each and donated the rest to the school."
Ms Saunderson helped the boys develop their idea – through sourcing a manufacturer (Adlantic Ltd), costings, profit margins and marketing.
"The hoodies have been such a success that we will be looking into doing them again next year," she said.
Due to the success of their business plan, the boys were invited to the JEP South Dublin showcase day in Tayto Park in County Meath, on Wednesday.
JEP was founded in 2010 by Kerry innovator entrepreneur Jerry Kennelly, who started web-designed platform Tweak.com in 2006, after selling his picture company Stockbyte to Getty Images for €110 million.
This is the first year the JEP has been extended to schools across the country, a programme which aims to nurture an entrepreneurial culture among primary school children.