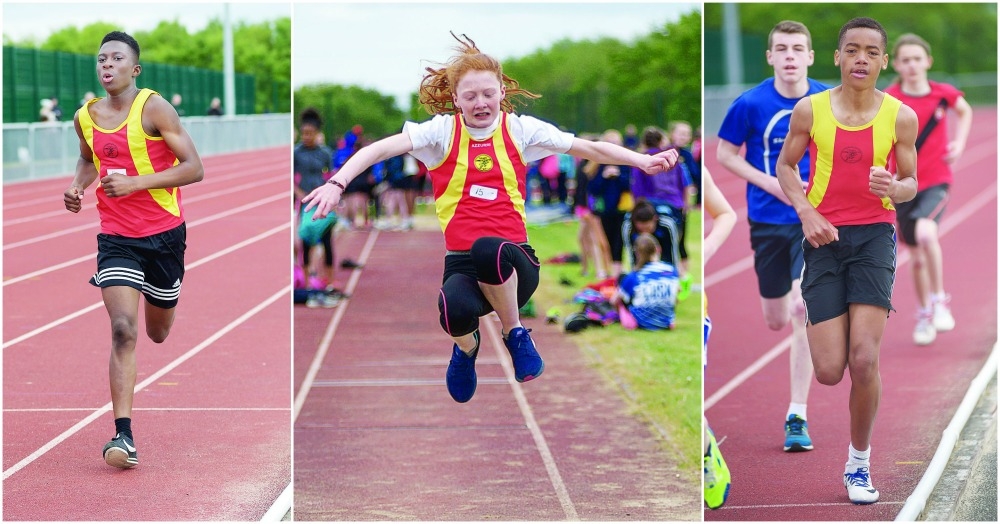 Tallaght juveniles in running for Dublin League honours
By Stephen Leonard
A NUMBER of Tallaght juvenile athletes are in contention for the Dublin Juvenile Track and Field League honours after some great performances at the third round which was held on home ground on Saturday.
Amongst those challenging for the top six awards are Rhasidat Adeleke who is currently top of the Under 16 League and, with only one contest remaining, unlikely to be overtaken.
Indeed after recording seven wins and some placed efforts in both track and field contests in the three league competitions so far, she has accumulated 59 points.
The runner-up trophy also looks to be earmarked for Lauryn McDermott who is 12 points clear of nearest rival Isabel Doyle of Rathfarnham/WSAF.
Jennifer Mc Adams, who recorded wins at 800m, 1000m and 1500m, is fourth, Aisling Mc Guinness fifth Sophia Kourrini ninth and Katelyn O'Neill 13th.
In the Boys Under 16 division Philip Omisore is second overall with Yan Geraghty seventh.
Moses Ikpefua is a contender for the Under 15 title, sitting presently in second position on 48 points with Caden Clifford seventh overall while Andrea Uchime is going strong in the Girls Under 16 class.
Jack Kelly is on target for the Under 13 title with a total score of 26 points over the first three leagues dates leaving him joint top with Metro St Brigid's Oisin Tebite while Leon Patterson put in a few encouraging top six efforts in track contests at Under 12 degree.
After some good performances in the Under 11 division Thomas Keating and Khalad Kourrini are third and fifth respectively.
Gareth Hayes heads the Under 10 division on 31 points following four wins in 60m, 300m, 500m and a fourth place in the long jump.
It leaves him with just one point to spare over DSD's Cian Dunphy in the battle for the title which will go all the way to the the final league contest on Sunday, May 28.
Elsewhere, a large number of Tallaght athletes competed in the annual Terenure Five Mile Road Race on Sunday with Niall Coppinger the first home for the club in a time of 29:34:00 followed by David Callaghan (29:51:00) and David O'Brien (30:58:00).
On Friday, Laura Mc Donnell clocked 22.23 for a fourth place finish in the Navan 6k Road Race with brother Sean finishing in 25.15, followed by Pauline Madden (25.22) and James Kennedy (26.22).
Back home Tallaght athletes put in some good performance at the Dublin Athletic Board Graded Meet Series where Sarah Lahiff recorded 27.82 on her way to fifth place in the Grade C 200m before Sarah Doyle finished third in Grade B 200m in a time of 28.3.
In the Men's Grade A Aidan Darcy crossed the line in third in 23.76 ahead of Christopher Duffy in 23.85 while Derek Kennedy and Nathan Prunty recorded respective times of 24.88 and 25.61 when both finished second in their Grade "C" 200m contests.
Eoghan Keaney ran out the winner of the Grade B 1500m in 4.19.52 with Dean Conway recording 4.20.94 for second while Peter Fitzsimons finished sixth in 4.26.54 and Sean McCabe won his C 1500m in 4.24.35.
In the 5000m contests Luke Coleman emerged sixth from Grade A with a time of 16.15.51.