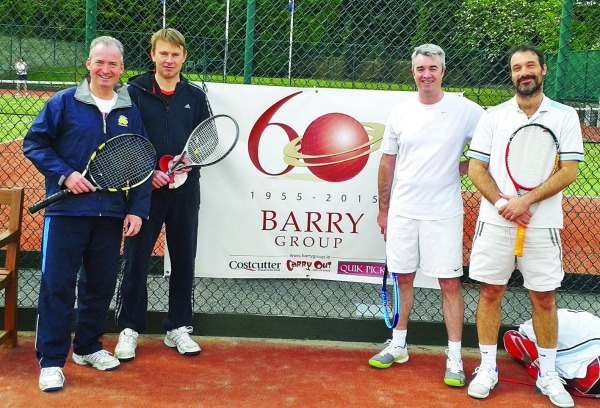 Templeogue to host 2017 Irish Open Vets C'ship
TEMPLEOGUE Tennis Club is gearing up to stage the 2017 Irish Open Veterans Championship (IOVC) from Thursday, June 1 to Monday, June 5.
The club which is celebrating 100 years in existence, will be hosting this hugely popular event for the third consecutive season.
Indeed, it was the work of Templeogue members David Barber, Tennis Ireland Chairman, and Sibéal Carolan, former club ladies captain and secretary, that was instrumental in bringing the championships to Templeogue for the first time back in 2015.
And the move has provided a huge boost for the event with the average participation levels up from close to 100 in previous ỳears to just over 330 last year.
IOVC Tournament Director Eddie Kavanagh and Tournament Referee Alan Brady are hoping the numbers taking part this season will rise towards 400 and both are well supported in their endeavour by an active committee that works hard to promote and run the competition.
Sponsored primarily by Barry Group, Sherry FitzGerald and Tennis Ireland, the tournament comprises of singles and doubles divisions for Men's Over 35s right the way through to Overs 80s and for Women's Over 35s through to Over 65s.
It remains one of three top vets events on the Irish tennis calendar and Templeogue is likely to be challenging for honours again this year.
Ffyonna Cunningham is in fine form heading into this year's competition having, this month, won the ladies singles title in the West of Ireland Open.
Having played at provincial and international level, she previously made the IOVC Over 40s Doubles Final with Lesley O'Halloran.
Justin Smith, another of Templeogue's Leinster and Ireland players, was a winner in the Over 40 doubles while Niall Murphy previously topped the Over 45 singles class.
In the Over 80 field, Templeogue boasts one of Irish club tennis's most decorated players in Gerry Clarke who will be back out in action again in next month's tournament.
Anyone looking to take part in this year's competition will find
the entry forms on
the club's website, www.templeoguetennis. com or, alternatively, they can pick one up from Paula Dormer at the Templeogue Tennis clubhouse anytime between 10am and 2pm, Monday to Friday.
The weekend will also feature a fundraiser for the club's charity partner Cheeverstown House.
Having already staged another hugely successful Junior Open in which more than 500 took part during the Easter period, Templeogue TC will also be looking forward to the hosting of the Leinster Open at the end of June.