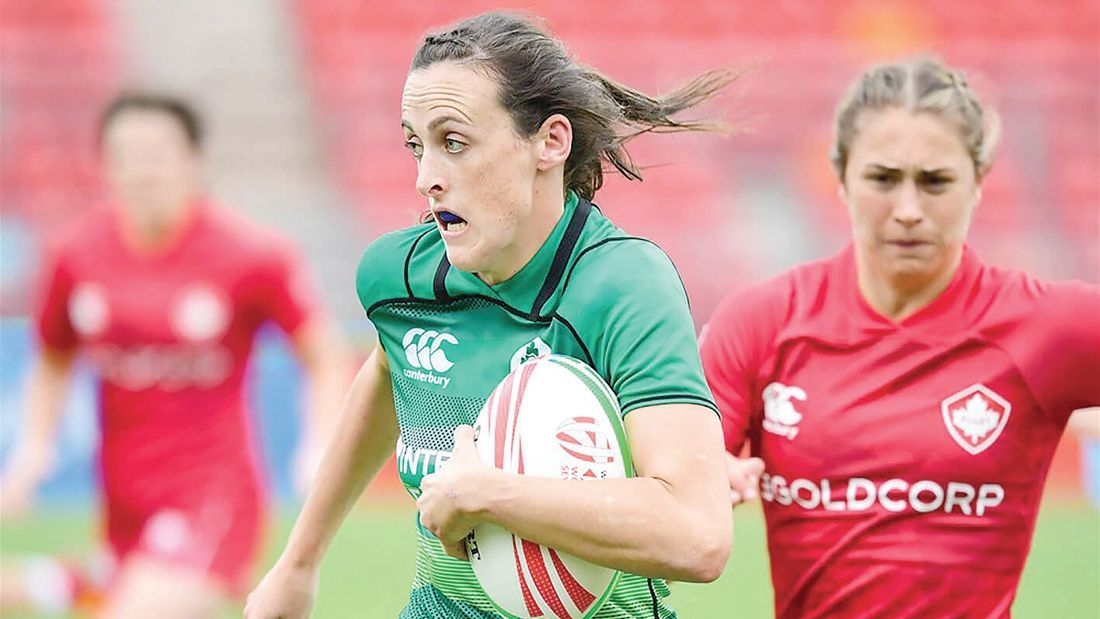 Tyrrell may not again don the Ireland Sevens jersey
By Stephen Leonard
HANNAH Tyrrell may well have played her final game for the Ireland Women's Sevens following the postponement of the next rounds of the HSBC World Rugby Sevens Series in Langford and Paris, which were due to be held next month.
The Clondalkin woman has been an integral part of the Ireland Sevens set-up for the past six years, but has opted not to renew her contract at the end of August in order to concentrate fully on her international 15s career.
Clondalkin's Hannah Tyrrell could well have played her final match for the Ireland Women's Sevens team
And with the postponed 2019/20 World Series rounds in Hong Kong, Canada and Paris perhaps being rescheduled for the autumn, if not cancelled outright, Tyrrell is not likely to be donning an international Sevens jersey again.
The team was sitting in 10th place overall in the Series after five tournaments, the last one played seeing them emerge 11th at the Sydney Sevens in early February.
"It is disappointing to be possibly ending it this way" Tyrrell told The Echo "It would have been nice to know that Sydney was my last time with the Sevens, but hindsight is a great thing.
"We had a couple of tournaments scheduled for the summer. We had the European Championships in Russia and Georgia in July, but I can't see them going ahead when we've got the World Series to run which is more important.
"Our season starts again around October in Colorado and there's talk of trying to run the postponed Hong Kong, Canada and Paris rounds in around that time frame.
"Before the new season can start you have to decide the promotion and relegation, unless they say this year there is no promotion or relegation.
"If you were a team pushing for promotion you'd be pretty peeved and if you're a team like Brazil who is nearly relegated you'd be breathing a sigh of relief.
"We were in 10th place, the next team up from Brazil, but there was still a sizeable gap between us.
"We deserved to be in 10th place. We just had a bad run of form, so I suppose for us, we were hoping to put in a couple of good performances and hope they would turn into results" said the former Round Towers player.
Still, while it might not have been the team's best season, Tyrrell has no shortage of highlights to look back on in her international Sevens career.
"There have been a few" she said. "My debut in Amsterdam back in May of 2014, playing a World Series qualifier at home for the first time in 2015, playing in the World Cup in San Francisco in 2018 and finishing fourth in Sydney last year- our highest ever finish."
Yet, while Tyrrell is closing the door on one aspect of her sporting career, it will allow her to focus more fully on international 15s to which she is certainly no stranger.
She made her debut for the side against Italy in the 2015 Six Nations, and has been in and out of the squad depending on her involvement with the Ireland Sevens.
And it looks poised to prove a pivotal year for her and the team with the qualifiers for next year's World Cup in New Zealand having been scheduled to take place in September.
Yet, given that their opponents cannot be determined until their seeding has been finalised from the 2020 Six Nations, the qualifiers are likely to be pushed back.
"I've been playing 15s rugby for a while now, but it's always been side by side with Sevens and I've never been able to give it a good whack" she explained.
"I thought that, with the World Cup qualifiers coming up this year, I'd give it a really good go.
"I'm very lucky. I've got my health and we'll be back playing sport at some point. Right now it's not the most important thing."
By subscribing to The Echo you are supporting your local newspaper Click Here: Echo Online.