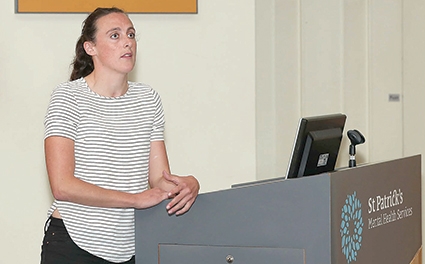 Walk in My Shoes students graduate
OVER 100 transition year students from across the county graduated from St Patrick's Mental Health Services' Walk in My Shoes TY programme, a mental health awareness initiative that aims to educate young people and to breakdown the stigma associated with mental health difficulties.
Each year, the programme sees students from schools across Ireland participate in a week-long placement hosted by the Adolescent Mental Health Team at St Patrick's University Hospital. Through a range of classroom-based activities and talks, students gain a clearer understanding of mental health difficulties, positive mental health and combatting stigma.
Clondalkin's Hannah Tyrell was a guest speaker
To date, over 700 students have completed the programme, which is now in its eight year.
At the end of each programme, participants emerge as mental wellbeing ambassadors and share their new understanding of positive mental health by preparing and giving a presentation to their classmates on their return to school.
Paul Gilligan, CEO at St Patrick's Mental Health Services said: "Mental health is one of the most important public health issues across the globe and educating students from a young age is crucial to promoting positive mental health attitudes and behaviour and to tackling stigma.
"Each year, the Walk in My Shoes Transition Year Programme sees students graduate with a better understanding of mental health difficulties and equips them with skills to act as mental wellbeing ambassadors for their schools and local communities."
Guest speaker for the ceremony, Hannah Tyrell, IRFU rugby star, added: "The Transition Year Programme is a great initiative. It's fantastic to see so many students embracing positive mental health and spreading awareness in their schools and local communities.
"These students are a credit to their local areas and well placed to act as local mental wellbeing ambassadors."