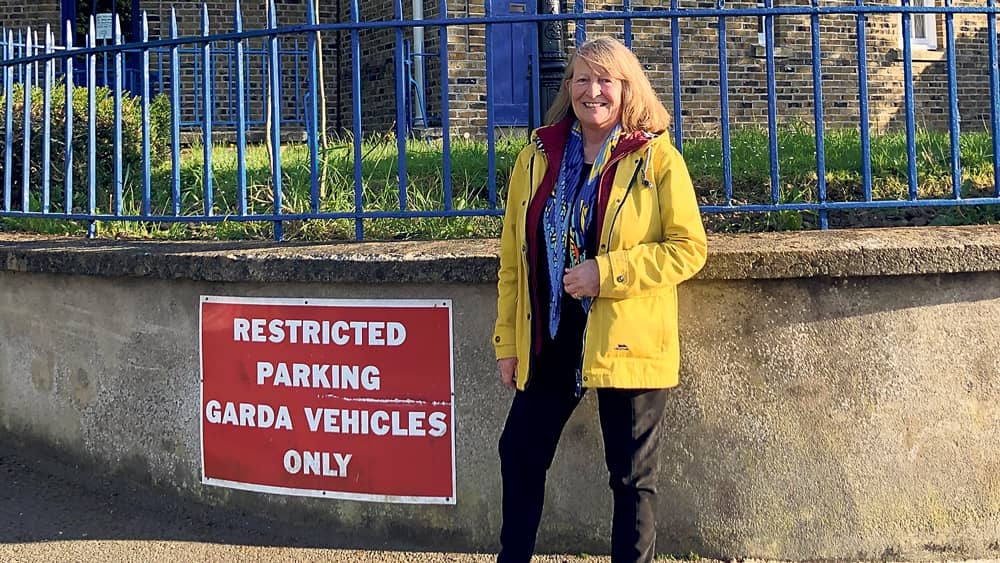 Water bottle narrowly misses councillor while out shopping
By Aideen O'Flaherty
A LOCAL councillor said she narrowly missed being hit by a water bottle that was thrown by a group of young people in Rathfarnham in recent weeks, as there have been issues with anti-social behaviour in the area.
Fine Gael councillor for Rathfarnham-Templeogue, Lynn McCrave, said the incident occurred when she was shopping last month, and it mirrors similar incidents which constituents have contacted her about.
Cllr Lynn McCrave outside Rathfarnham Garda Station
Cllr McCrave told The Echo: "Luckily, I wasn't injured, but I was quite shaken.
"I have received reports of similar incidents, one of which occurred in a local park where a young child in a buggy was almost hit.
"This is disconcerting and can be intimidating for people, particularly older people, who have been feeling vulnerable over the past year."
The anti-social behaviour issues in Rathfarnham in recent months could be linked to the temporary closure of sports and social clubs during the previous lockdowns, according to Cllr McCrave, as it meant "we have all had too much time on our hands".
She added: "Unfortunately, for a very small cohort, this led to some inappropriate activity."
Local Fine Gael TD and Minister of State for Overseas Development Aid and Diaspora, Colm Brophy, has been in touch with local superintendents about issues with anti-social behaviour in both Rathfarnham and Templeogue.
Mr Brophy added that community gardai will "work to prevent any surges in antisocial behaviour", and he advised people to report instances of anti-social behaviour to gardai.
Looking ahead, Cllr McCrave said: "As we move towards easing restrictions and hopefully into a period of finer weather, there is great optimism in our area.
"It is, therefore, essential that all local residents can enjoy their local parks and amenities without feeling wary of any threat from others.
"I join with Minister Brophy in encouraging anyone who witnesses any untoward activity in their local area to report it to the gardai immediately."
Rathfarnham Garda Station can be contacted on 01 666 6500.
By subscribing to The Echo you are supporting your local newspaper Click Here: Echo Online.