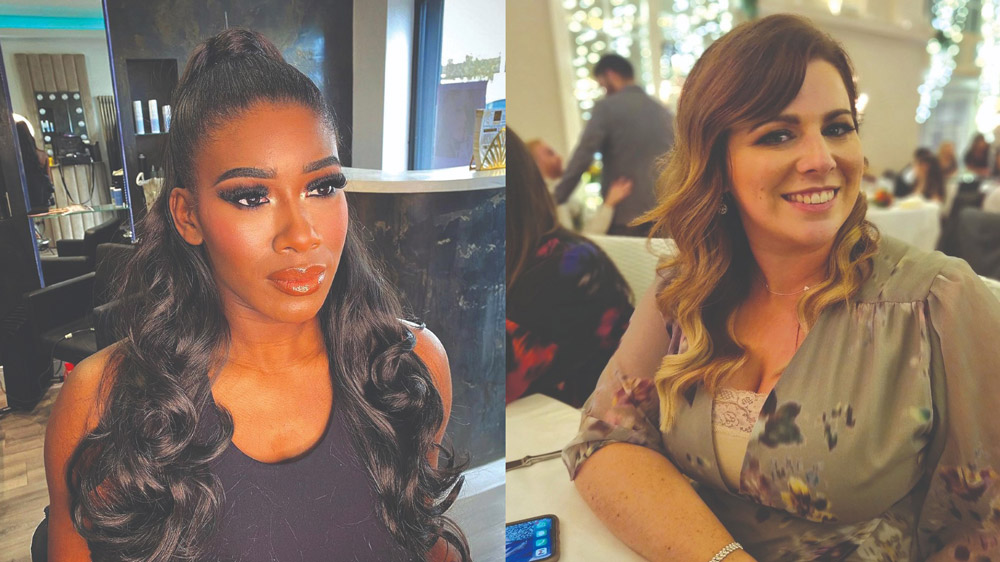 Women of the Year nominated for their resilience and courage
TWO local women have been nominated for the Goss.ie Women of the Year Awards for inspiring others and showing bravery in the face of adversity.
Lariche Mandiangu was nominated for her charitable endeavours and sharing her experiences after being assaulted, while Charlene Masterson was nominated for raising awareness of sexual and domestic abuse after her father was convicted last year of rape, blackmail and sexual assault.
Lariche Mandiangu, 35, who grew up in Killinarden and now lives in Lucan, was nominated for the award by her family members.
The young woman is a familiar face to avid TV viewers, having appeared on RTÉ's 'Ireland's Fittest Family' and Virgin Media One's 'Gogglebox Ireland'.
However, her family nominated her for her bravery after Lariche and her husband, Gary, were brutally assaulted by a group of young men in the city centre earlier this year.
The couple were violently punched and kicked, with Lariche having broken fingernails and facial injuries, which have since healed, while Gary suffered bruising and a concussion.
The aftermath of the assault left Lariche, who is a past pupil of Killinarden Community School, terrified to leave her home for three months as she struggled with anxiety and panic attacks.
"I couldn't go into public places with other people, I had to go and see a counsellor," Lariche told The Echo.
"He said that I needed to put myself first, that if I'm not okay, I can just say I'm not okay and then deal with it.
"He told me to understand that sometimes things happen, but that I couldn't let it take over my life – I had to build the bridge of getting back to being me."
While Lariche is still dealing with the psychological scars of the assault, she has started socialising with friends and family again – including attending matches to support Shamrock Rovers.
Lariche and her husband are friends of Shamrock Rovers manager Stephen Bradley, and when they found out his eight-year-old son Josh had leukaemia, they organised a charity football match.
"I felt like it was something that I needed to do, and I couldn't turn away from it," Lariche explained.
The event was held last summer and raised over €500, and the young woman explained that she always helps others when she can.
Lariche said that when she moved with her family to Ireland from the Congo as a young child, she quickly learned English so she could translate for her parents.
As for the recognition of her resilience and her willingness to help others that is at the heart of her nomination for the Goss.ie Women of the Year Awards, Lariche said she's taking it in her stride.
"The way I look at it, if everyone did something like [a charity fundraiser] every so often, the world would be a better place," she said.
Also aiming to the make the world a better place is 33-year-old Charlene Masterson, who has fundraised for the Dublin Rape Crisis Centre and raised awareness of domestic violence and abuse.
Charlene bravely waived her right to anonymity last year when her father received a 17-year prison sentence for sexually assaulting, raping and blackmailing the young woman.
"The last year has been a whirlwind," Charlene told The Echo.
"I couldn't quite believe all the support from friends and strangers, I even got cards from people I'd never met, people made donations to the Dublin Rape Crisis Centre after hearing my story, attaching notes for me.
"I have also spoken to and met so many amazing people including the most incredible survivors of sexual abuse and sexual assault.
"I am in awe of them all and felt so honoured to have spoken to them. It's all been amazing.
"Don't get me wrong, there are tough days, but in comparison to how I was before he was convicted, the difference is night and day – I'm just much happier!"
A past pupil of the Assumption Secondary School in Walkinstown, Charlene was nominated for the Women of the Year Awards by her friends in recognition of her courage.
The Tallaght woman has gone on to be interviewed about her experiences on 'The Late Late Show' and set up an Instagram page called Survivors Voice so women with similar traumas can contact her.
All of Charlene's efforts around raising funds for the Dublin Rape Crisis Centre, sharing her own experiences and supporting others, has led to her nomination for the award.
"To be honest, I feel like a bit of an imposter," Charlene said, when asked how she felt when she found out she'd been nominated.
"The other four women are the most incredible ladies who have been through so much.
"They have done and continue to do amazing things for people. I feel so privileged to even have been thought about by the person that nominated me, but to be shortlisted feels like a dream.
"I always said that if my story touched or helped one person, I'd feel like it was worth it, so for it to have encouraged someone to nominate me for this is just way more than I could have ever thought."
Charlene and Lariche are two of five women who have been nominated in the Local Hero category of the Goss.ie Women of the Year Awards 2022.
The winner will be announced at an awards ceremony on Sunday, October 9, at The Royal Marine Hotel in Dun Laoghaire.