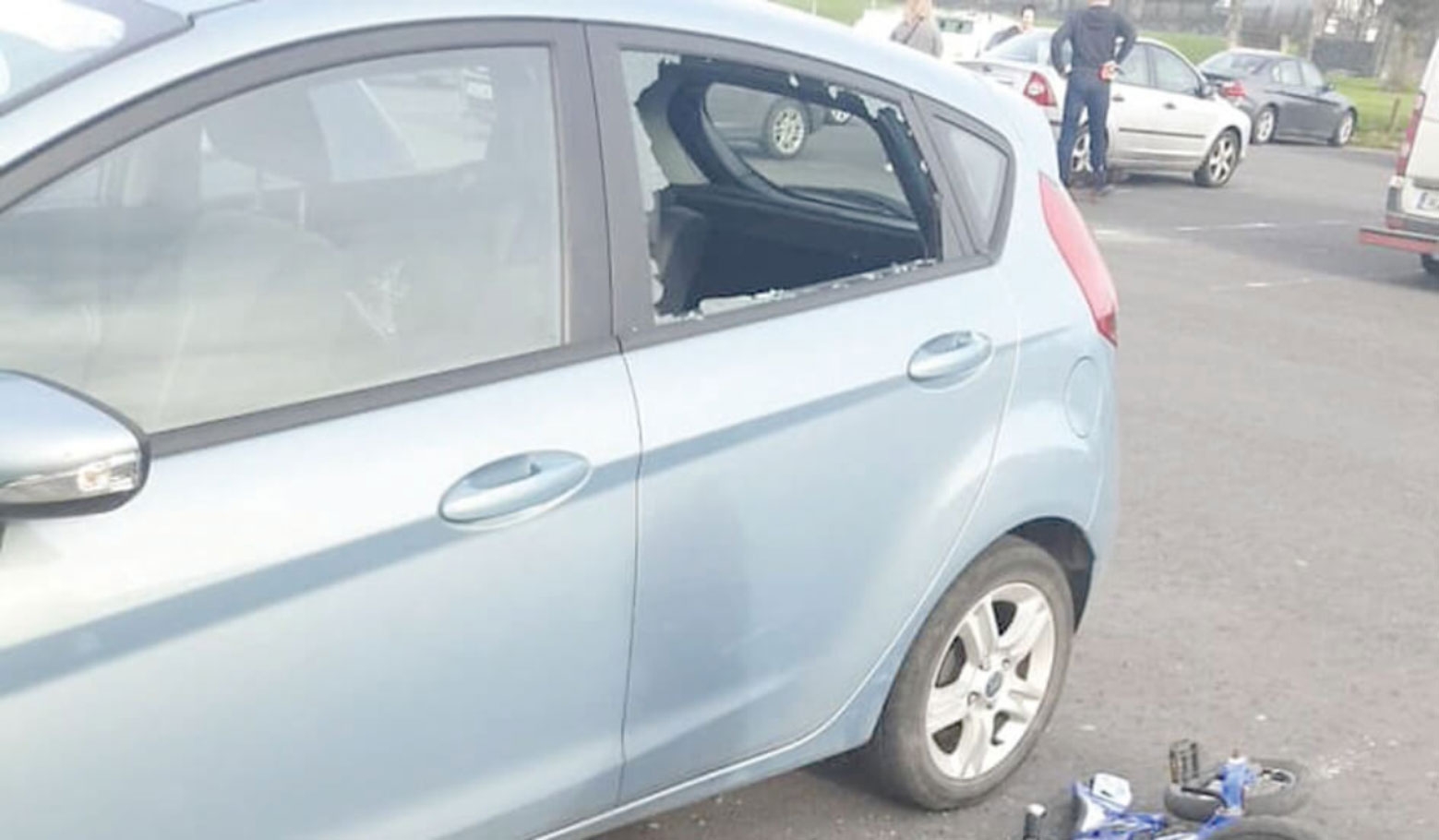 Young boy's birthday presents stolen from car
By Maurice Garvey
THIEVES broke into a car at Corkagh Park, stealing birthday presents from a six-year-old boy in the process.
A mother, her two kids and the mother's sister, were enjoying the good weather on Monday at Corkagh Park.
The broken window of the car.
Upon return to the car park on the Naas Road side, the women put bags in the boot and brought the kids aged six and three to the toilet.
On their return, they discovered the rear window of their Fiesta smashed and the bags stolen.
"There was a very heartbroken little boy – it was only his birthday two weeks ago," said Nikita O'Shea, aunt of the young boy.
"We had just put stuff in the boot of the car to bring him to the toilet, but the back window was smashed and everything gone."
Nikita, from Fettercairn, in Tallaght, feels someone was watching them put the bags in the boot, as the car had been parked there for an hour at that point.
The stolen items included a Nintendo, Smyths toy vouchers, a River Island bag with a watch, bank cards, post office/credit union books and sentimental belongings.
"I just hope it doesn't happen to anyone else," said Nikkita.
"To be honest, we would be up there two or three times a week and nothing ever happened. I assume it was the good weather. There was no park staff but a man called the gardai and they have been helpful."
She said they looked for the stolen items but with "no luck".
In November, The Echo reported how a mother discovered her car had been broken into at a carpark at the St John's side of Corkagh Park, whilst she was visiting the playground with her two young daughters aged six and four.
Once again, the back window was smashed and Christmas toys from Smyths, along with money and bank cards were stolen from the boot.
A Garda spokesperson said: "Gardai are investigating a theft from a car that occurred outside a park in Clondalkin, on Monday, February 25 at approximately 3pm. Items taken from car. Investigations are on going."
Nikkita appealed for anyone who finds any of the stolen items to contact Clondalkin Garda Station, or notify her on social media.
A spokesperson for South Dublin County Council said there are six park rangers primarily based in Corkagh Park "an area of 120 acres."
They also cover Ballymount Park, McGee Park, Clondalkin Park, Killinarden Park, Jobstown Park, Rathcoole Park and Sean Walsh Park.
In total, SDCC has a staff of 14 park rangers, deployed across the three operational districts of the county.
SDCC said the ranger service is responsible for enforcing SDCC bye-laws for parks and open spaces, and they have an extensive role in protecting parks, including functioning as guardians and a first point of contact for members of the public seeking assistance.
"It is unfortunate that this park visitor's car was broken into – we would urge people to not leave any bags, coats or valuable items visible when leaving their car in the carparks," said the SDCC spokesperson.