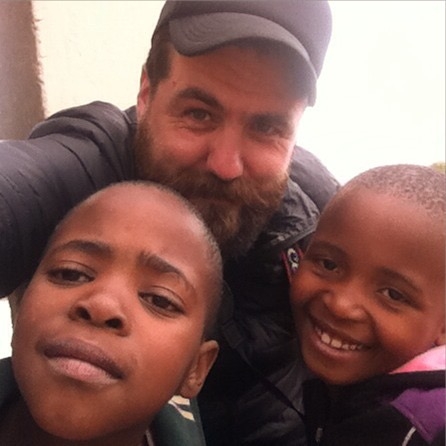 Aidan's ArtAid mission
By Mary Dennehy
WE ARE all moved by the plight of people living in third-world countries, but for many of us life and the ability to switch the channel prevents us from doing anything of real value to help those in need.
This was not the case for Tallaght photographer Aidan O'Neill (pictured right) who recently travelled to Swaziland in an attempt to tell the story of the country's fight against paediatric HIV and AIDS.
Aidan, who grew up in Aylesbury and is a past lecturer at Old Bawn Community School, was first introduced to the country's fight against HIV and AIDS when he travelled last year to Swaziland for a collaborative initiative between Victoria Beckham and online luxury fashion site, Net-a-Porter.
The collaborative project aimed to raise money for a charity called Mothers2Mothers, which is working on the ground and fighting to stop the spread of the virus through the provision of healthcare services and education, alongside empowering women to start rebuilding their communities devastated by the virus.
On his return home to London, where he has been living in recent years, Aidan found it difficult to stop thinking about those he met while in Swaziland, and the fact that the transmission of paediatric HIV and AIDS is preventable.
A senior photographer with Net-a-Porter, Aidan packed up his job, his flat and his life in London and last month travelled to Swaziland on a six-month project called ArtAid.World, which is a not-for-profit charity that aims to support community-based projects such as Mother2Mother while raising funds and global awareness.
"Each day, almost 600 children in sub-Saharan Africa are born with HIV", Aidan said.
"This is a staggering figure, especially as mother to child transmission of the virus is almost entirely preventable.
"We need to look at this not as a mother/child problem but rather as a community issue, which continues to be exacerbated by stigma".
In Swaziland, a small landlocked country in Southern Africa, one in four adults are living with HIV or AIDS.
According to Aidan, the virus has spread at an alarming rate since the first cases of AIDS were reported in the country in 1986 – with Swaziland now having the highest HIV prevalence in the world, at 26 per cent.
Talking about his first visit to Swaziland, Aidan said: "Amidst the numerous success stories, there were heartbreaking disappointments, which demonstrated how much more needs to be done.
"On the last site visit, two children in the programme had just tested positive.
"One was there with his mother, also HIV positive, and the other, a tiny four-year-old girl, was there with her aunt, her mother had passed away from the virus.
"The sorrow was overwhelming and the fact that it was still happening every day in villages and townships throughout sub-Saharan Africa was unfathomable."
Aidan also spoke of a conversation with children last week, during which the youngsters were shocked to learn that Aidan, at the age of 35 years, still had both parents living – a rare situation for many children living in Swaziland.
Alongside raising money to help the fight against paediatric Aids in sub-Saharan Africa, and supporting education at community level, ArtAid.World will also spread the real stories behind the virus.
Aidan plans to tell this story through international photographic exhibitions and already galleries in London, Ireland, Swaziland and Geneva have expressed interest in staging the ArtAid.World exhibition in 2016.
To follow Aidan's journey visit www.artaid.world, where he regularly posts images and information.
An option to donate to the charity is also available on the charity's site.
Latest News: Mother gets €20 allowance per week for 5hr school run
Latest News: N7 flyover fury on lack of 'screening'
Latest News: Gardaí stand accused by residents of 'copping out'…
Latest News: Park tunnel may ease traffic in Lucan, Clondalkin and Ballyfermot
Competition: Win a Claire's Accessories goodie bag – click here