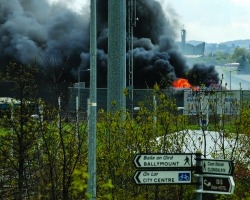 Blaze at storage facility sees families devastated by losses
MANY families have lost many valuable and sentimental possessions following a large fire at a storage facility in Ballymount Cross by the M50 on Wednesday.
Ten units of the DFB, with fifty fire fighters, including two aerial units and an incident command unit, battled the blaze in strong winds at the Store It facility in the Ballymount Cross Industrial Estate. The aerial units can pump a ton of water per minute into the fire.
The strong winds hampered earlier efforts to control the fire, which had to be fought from the M50 side as well. The M50 remained open.
According to Cllr Daithí de Róiste: "One young couple from Walkinstown had just sold their own home and were about to buy another house and now all their possessions and personal belongings that were in the storage facility have been destroyed by the fire. They have been left with absolutely nothing.
"Even insurance cannot replace the memories and treeasured items that are now gone."
He added: "It is gut-wrenching to hear of their loss. I have to exend my gratitude to Dublin Fire Brigade who have responded so diligently to fight the most difficult of fires.
A spokesperson for DFB said they were called to the scene at 10.15am. People from surrounding buildings were evacuated and there were no casualties.
The fire service has said that people in houses and buildings downwind of the fire should close the windows as a precaution and those with respiratory conditions should take extra care.
Dublin Fire Brigade's fire incident commander has asked that people "avoid the area where possible".
The building in question is a large storage facility which caters for businesses and households.
The DFB said they were unable to confirm the cause of the blaze. The company's website says Store It provides "secure commercial and residential storage" for long- or short-term rentals.