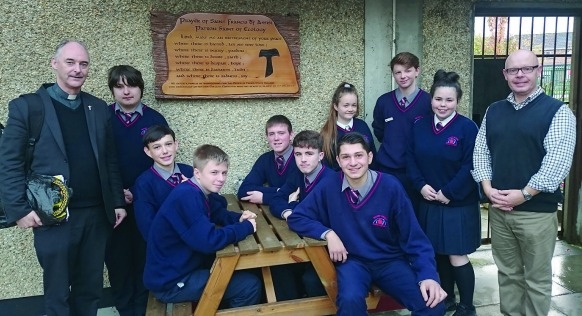 Book of Condolences sent to Travelling community
By Mary Dennehy
JOBSTOWN students recently expressed solidarity with their peers who are members of the Travelling community by creating a Book of Condolences following the Carrickmines tragedy.
Fifth-class students in Mount Seskin Community College led the school initiative which saw all students and teachers sign individual class posters, designed by students in the Leaving Cert applied class, 5 Ash.
Speaking to The Echo, school chaplain, Patrick Doyle, said that the Book of Condolences symbolised the school's solidarity with students who are members of the Travelling people, with around 35 Traveller students studying at Mount Seskin.
The book was also the school's way of offering its sympathies to the families and friends of those who lost their lives in the Carrickmines tragedy and also to Father Derek Farrell, who is the chaplain of the Parish of the Travelling People.
Father Derek visited Mount Seskin last week and was presented with the Book of Condolences.
School Chaplain Patrick Doyle said: "While expressing our solidarity, creating the book of condolences gave us the opportunity to invite Father Derek to the school, and alongside collecting the book he spoke to the students about himself, his role as chaplain, the Traveller culture and his own faith.
"The students did a brilliant job and they also compassionately decorated ten pages to highlight the names of each person who sadly lost their lives in the fire at Carrickmines."
READ MORE
Green light for Citywest Village –
Family gets €400,000 in 'flesh-eating'
Car thief abandons stolen vehicle
and escapes on foot – Click>>> HERE
Free parking proposal gets thumbs
down from council – Click>>> HERE
C
ouncillors complain of being
'frozen
out' of roundabout talks –