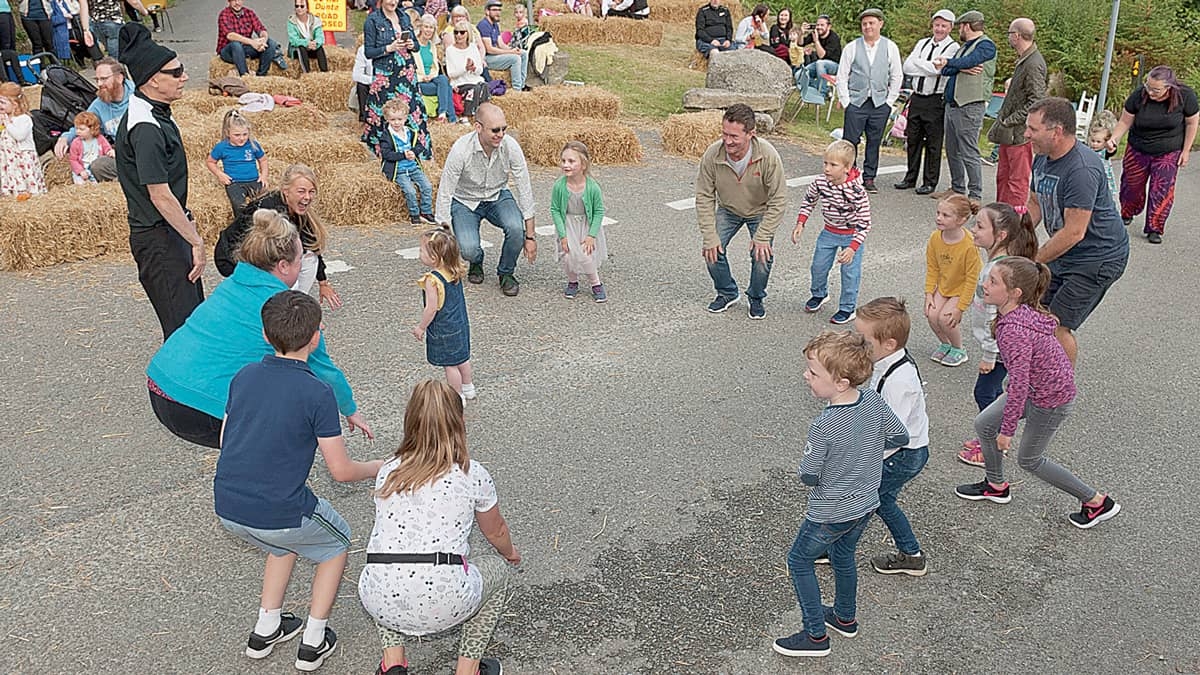 Ceili provides social outlet and a connection to local heritage
By Mary Dennehy
THE group behind bringing local heritage back into step by reviving dancing at the crossroads is among the 2019 Tallaght Person of the Year winners holding onto their awards for a two-year stint.
Due to challenges presented by Covid-19, the annual community-led awards programme has been cancelled for 2020, with current Tallaght Person of the Year Lee Moroney staying on for a second term.
People enjoying the ceili at the crossroads
Each of the category winners from 2019 will also stay on for a historic two-year term.
This week, The Echo spoke with Derek Brady of the Glenasmole Ceili Committee, a year after they won the Arts and Culture Award at Tallaght Person of the Year 2019.
Growing up in Firhouse, Derek's mam Ann was a Castlekelly native and her dad, Derek's grandfather Tommy Mahon, one of the founding members of St Anne's GAA Club.
In 2005, Derek moved to Castlekelly after building a house on his mam's family land.
Martina and Sean Lee with Myles and Carmel Murphy accepted a merit award on behalf of Glenasmole Ceili with Superintendent Ian Lackey at last year's Tallaght Person of the Year Awards
Speaking with The Echo, Derek said that not only does the Glenasmole Ceili provide a social outlet for people of all ages living in-and-around Tallaght's rural communities, but creates a connection to local heritage.
"It all started around five years ago when the community [of Glenasmole/Cunard] got involved in the Pure Mile Project", Derek told The Echo.
"Alongside adopting a mile of road in your area and keeping it clean, the project also encourages people to identify any cultural aspects along the road.
"We discovered that 50/60 years ago there was dancing at the crossroads."
After support from South Dublin County Council, Aras Chronain in Clondalkin, the St Anne's Balladeers and those living in-and-around the Glenasmole community, the first Glenasmole Ceile took to the crossroads in 2015.
"I think it was important for us to introduce the 21st century child to dancing at the crossroads, show them that this is what your grandparents used to do", Derek said.
"The kids really love it and it's great to see such a mix of people, of all ages, coming together.
"The event draws the whole community together… with people making new friends and meeting old friends from the past.
"The first event was seriously uplifting… and we knew we had to try and keep it going."
He added: "It also helps to promote local heritage and is unique to Dublin in terms of a real, rural area.
"We made a decision early on to cancel this year's event, but are hoping to be back bigger and better next summer."
Looking back to last November, when the ceili committee picked up the Arts and Culture Award, Derek said: "It was massive for us to win.
"We were over the moon, delighted… and it was good for all of the people who put in a lot of work each year."
While Tallaght Person of the Year is not going ahead as normal this year, members of the community are still being given an opportunity to recognise their unsung hero.
Awards organiser Tallaght Community Council (TCC) is asking the community to continue to recognise local heroes through its #OurHeroesYourChoice initiative.
Instead of the traditional nomination process, this year TCC is providing members of the community with Certificates of Appreciation, which can be presented directly to an unsung hero – or popped through their letter box.
When asked who would give a certificate of nomination to, Derek said: "Jim Monaghan from Arás Cronin, without Jim we wouldn't have a ceili.
"Jim comes to the ceili every year and does the brush dance with the kids and sings all of the old school songs that some of the adults would have learned as children.
"It's great because he brings these old songs back to life for a new generation of kids.
"Jim brings a few musicians with him on the night, and also does set dancing."
Is there someone whom you would like to say 'thank you' to?
The certificates will be published in The Echo Newspaper during the month of November and will also be available to download from The Echo's website.
By subscribing to The Echo you are supporting your local newspaper Click Here: Echo Online.