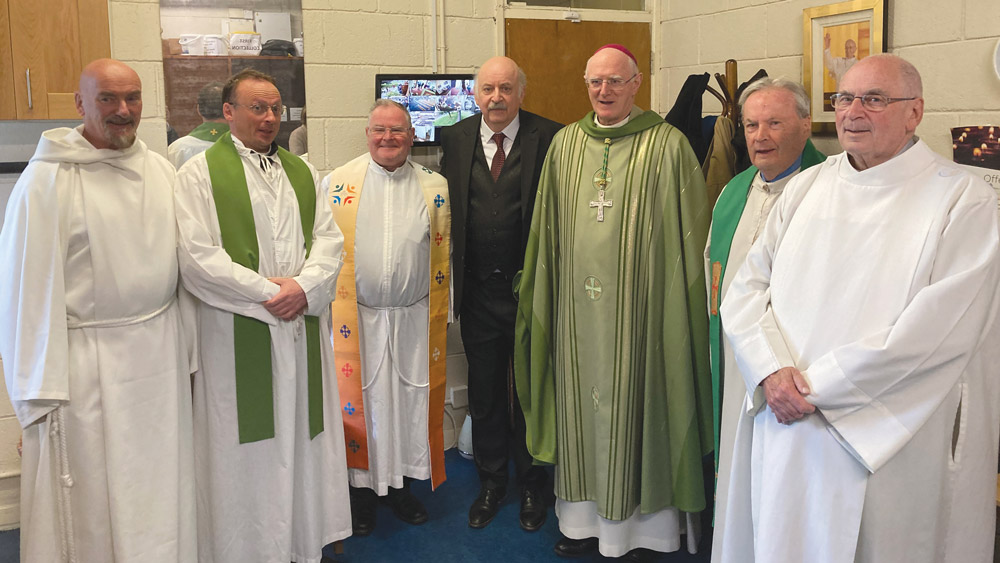 Celebration of St Mark's 50th anniversary uplifting for area
A CELEBRATION of the establishment of St Mark's parish in Tallaght has taken place with a weekend of events, including a blessing of the animals, a celebratory mass and a concert, reports Hayden Moore.
The parish of St Mark's was constituted on September 2, 1972, and a temporary church opened that December.
With a growing population within the parish, the community outgrew the smaller church, and a new permanent parish church was sponsored by the Dublin Diocesan Share committee to the tune of £85k.
In July 1975, St Mark's Church was officially opened, and the surrounding area continued to expand with the establishing of the St Mark's National School, St Mark's Community School and St Mark's GAA club.
The Vine Group organised the annual Euchariston Harvest Festival to honour the 50th anniversary of St Mark's parish on this occasion through multiple different events.
While the parish priest, Fr Bill O'Shaughnessy could not attend the weekend of celebration through illness, he followed the events online.
"I think it's a superb celebration of community and faith coming together," Fr Bill told The Echo.
"50 years is no joke for any parish to be celebrating.
"It's a beautiful sign of life and vitality to the area of Springfield and including the extended areas, which are all working together, of Brookfield and Jobstown – it was a great sign of everyone coming together.
"It was a great showing of the importance of community. All the volunteers of St Mark's Parish did fantastic work in bringing all this together, it was a great sense of celebration."
A blessing of the animals took place in the farm, an international food fair took place in the old scouts den, and a céili/barn dance was also hosted in the farm – which is the talk of the parish this week.
A special 50th anniversary mass was held in St Mark's Church on Sunday afternoon, which was celebrated by Archbishop of Dublin, Dermot Farrell, on his first visit to the parish.
Former parish priests were in attendance such as Monsignor John Deasy, Fr Paul Ludden and Fr Gerry Byrne alongside Fr Martin Hughes, the former chaplain of St Mark's Community School.
When Cllr Charlie O'Connor moved to Springfield, his family was the second to move in.
Charlie was asked to carry up the gifts along with one of the first people to be christened in the church, Jennifer Scanlan, at the special celebratory mass on Sunday.
"It was a very uplifting weekend I have to say," Cllr O'Connor said.
"It was good for the parish, Archbishop Dermot Farrell spoke very well and people we delighted to see him on his first official visit to Springfield.
"It was a great weekend, it was nice to celebrate the parish and good for the community."