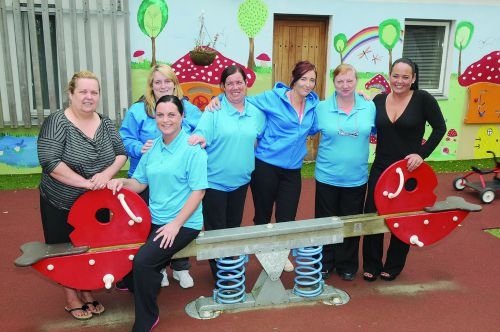 Local childcare facility delighted to be nominated for top award
By Mary Dennehy
A COMMUNITY childcare facility in Jobstown, which has made a positive impact on the lives of hundreds of local kids and their families, has reached the final stage of a high-profile, national competition.
Opening its doors nine years ago in the Jobstown Village Square, An Turas is a not-for-profit community crèche, which supports local families through quality, affordable childcare – which also offers services such as parenting courses and access to a speech and language therapist and a parent care facilitator.
Employing 27 people and catering for 130 children, An Turas was this year nominated for the Boots Maternity and Infant Awards 2015, and has reached the final four in the Best Community Creche category.
Lisa Murphy, An Turas Manager, told The Echo: "We are delighted with the nomination and delighted that we have gotten so far.
"When we opened there was a need for childcare services in the area due to a young population, affordable childcare was also important as it opens the doors to more children and also supports parents who want to go back to education.
"We operate off an open door policy and include the parents and grandparents a lot.
"We see the importance of trying to do our best for the whole community and offer support which can help parents and children both in An Turas and at home."
Lisa added: "There has been some amazing success stories for local families over the past 10 years due to the support a community childcare facility can offer.
"Reaching the final of the competition is really a win for the entire community, with staff, families and local organisations pulling together to make An Turas great."
Funded by Pobal, with assistance from the Childhood Development Initiative [CDI], An Turas caters for babies aged three months right up to 13-year-olds, who access the after school service.
In September a competition judge will visit the four Best Community Creche finalists before announcing a winner at an awards night in October, which will be recorded by the competition's media partner, RTE's Today Show.
Latest News: Youths try to lure Garda patrol cars 'to stone us out of it'…
Latest News: Youths attacked in Rocker bashing incident…
Latest News: Alternative proposals put forward for Letts Field in Neilstown…
Latest News: Chargers to be brought over Jobstown protest…