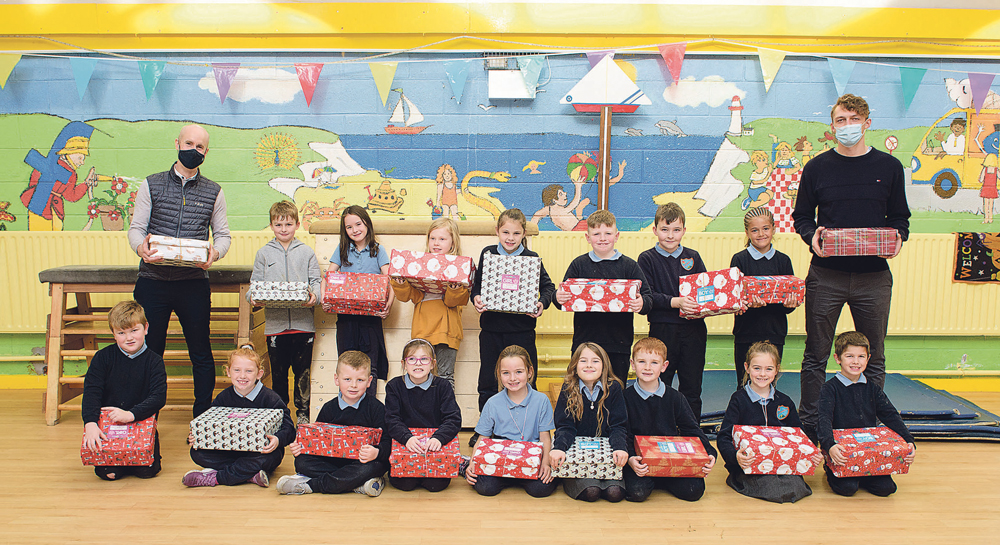 Class Christmas shoebox appeal yields up 64 boxes
STUDENTS from second class at a Clondalkin primary school showed their generosity by donating 64 boxes filled with goods for a Christmas shoebox appeal.
The pupils at St Bernadette's Junior National School in Quarryvale, Clondalkin, handed over their shoeboxes for this year's Hope appeal. Hope's Christmas Shoebox Appeal is an annual campaign that delivers gifts straight into the hands of children affected by poverty in disadvantaged countries. Since 2010, the charity has delivered 2.1 million shoeboxes filled with goods to children across the world.
The children donated 64 boxes to the appeal through the Dealz store in Fonthill Retail Park on Monday, November 8.
"The kids were massively excited about it all," school secretary Kathleen told The Echo. "This is the first time we have done it in the school – one of the teachers decided to do it before Covid hit so we decided to do it this year.
"We asked each child to bring in one item and we would do one shoebox per class, but the parents sent in nearly a box for each child and the kids were just so thrilled bringing in the boxes."
The school secretary thanked the parents and children for their generosity towards the appeal, saying that they are "always so generous in supporting anything in the school".
The shoebox appeal shows children the importance of giving, especially at Christmas, and educates them on the less fortunate and more vulnerable in the world.
"The teachers explained it to the pupils that this is the only present these children will get this Christmas," Kathleen explained. "It brings a reality check for a lot of the kids that not everybody will be getting a scooter or bike for Christmas."