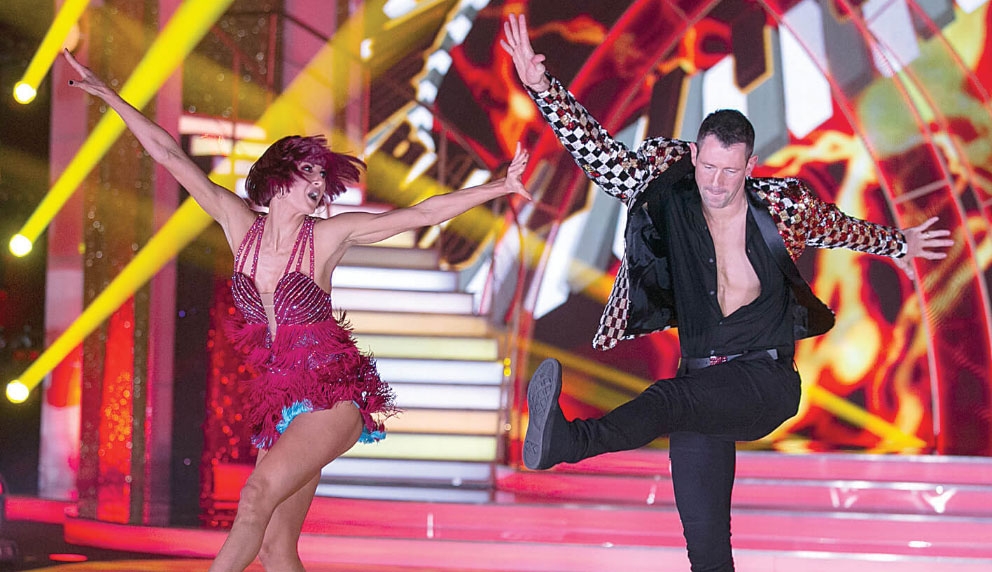 Denis and Johnny are put through their paces
By Aideen O'Flaherty
THE CELEBRITIES competing on RTÉ's Dancing with the Stars were put through their paces on the live show on Sunday evening, after they had spent the previous week switching their professional dance partners to add an extra challenge to the tense show.
The sequinned celebrities, including Greenhills man and 'Love/Hate' and 'Fair City' actor Johnny Ward and Dublin GAA champion and Glenview native Denis Bastick, got a brief reprieve from eliminations this week, before the show progresses to the tense dance off stage this Sunday.
Denis Bastick from Tallaght with Giulia Dotta
Sportsman Denis (37) was paired with professional dancer Giulia Dotta and they jived to 'Great Balls of Fire' by Jerry Lewis.
Afterwards, Denis said: "My feet are on fire. I got to play air guitar too."
Judge Loraine Barry said: "Denis, you knew you had to get to a certain point…the kicks and flicks were really, really there. A very good jive, well done."
Fellow judge Julian Benson was equally as impressed, remarking: "Goodness gracious great balls of Bastick!
"There was so much jive content in that routine – you delivered those kicks and flicks.
"You looked like you enjoyed yourself…I saw that twinkle in your face tonight."
The three judges then gave the All-Ireland winner a score of 21 for his jive routine.
Johnny (31) performed a lively quickstep to 'Are You Gonna Be My Girl' by Jet with his professional dance partner Ksenia Zsikhotska.
Johnny Ward with Ksenia Zsikhostka
Commenting after his performance, Johnny said: "I had an amazing week and I really enjoyed it, but [the dance] was difficult. It's done and I'm really happy."
Julian commented: "That was a rock 'n' roll quickstep, I have to commend you – you deal with the steps so well.
"I thought you had a lovely frame, you have a massive potential and you could be a star performer. Well done."
Judge Brian Redmond added: "It was loaded with fast choreography, even the section when you were in the corner in sync.
"I thought the swing section was a hit. I'm looking forward to next week."
The actor scored a total of 19 from the judges.
All of the star performers were safe from elimination this week, but now the professional dancers will revert back to the original celebrities they were paired with in preparation for the dance-offs which will begin on this Sunday's show.
The next episode in the series will air this Sunday, February 17, at 6.30pm on RTÉ One.