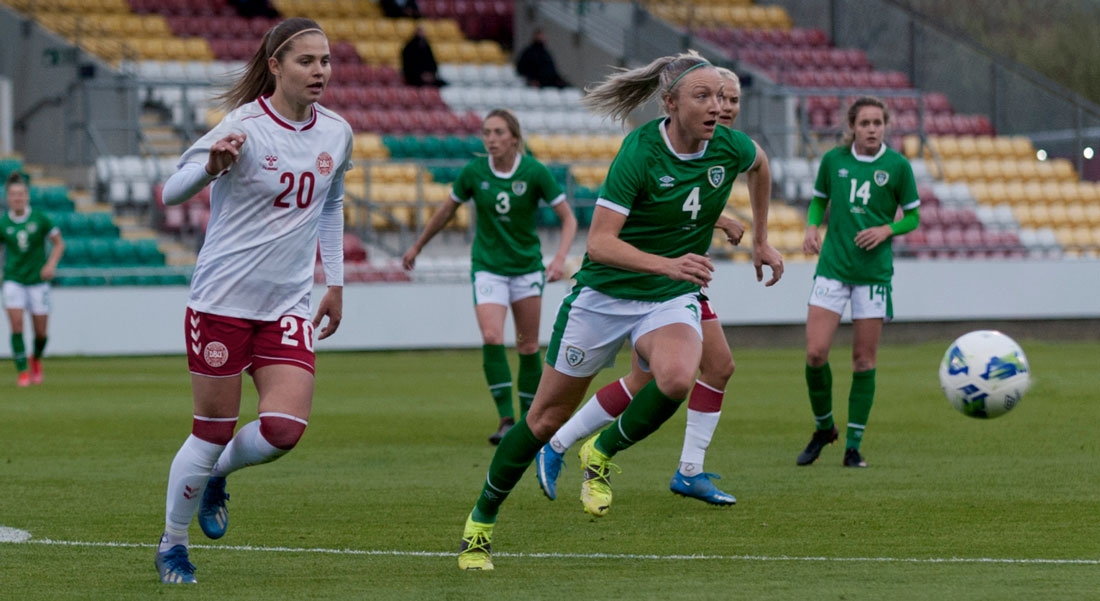 Denmark edge international friendly in Tallaght
By Daire Walsh
The Republic of Ireland senior women's side suffered a 1-0 defeat at the hands of Denmark in an international soccer friendly at Tallaght Stadium this evening.
Nicoline Sørensen's ninth-minute goal was enough to secure a win for the travelling Scandinavian outfit, but it was a worthwhile exercise nonetheless for Ireland, who face Belgium at King Baudouin Stadium in Brussels on Sunday.
Ireland captain Katie McCabe from Kilnamanagh gathers possession for Ireland (Pic: Paddy Barrett)
Kilnamanagh native Katie McCabe was captaining the side on the night and was joined in the starting line-up by former Peamount United captain Louise Quinn.
While the current stars of the Women's National League champions - Aine O'Gorman and Claire Walsh - were listed amongst the substitutes, Quinn heralded a quartet of former Peamount footballers in the Irish team alongside Denise O'Sullivan, Amber Barrett and Heather Payne.
Ireland were searching for a bright start to 2021 and initially put pressure on their Danish counterparts.
That was until a Sofie Svava cross from the left-wing slipped through a slew of bodies into the path of Everton's Sørensen, whose low shot crept past Irish netminder Grace Moloney.
Former Peamount player Louise Quinn clears her lines for Ireland in Tallaght Stadium tonight (Pic: Paddy Barrett)
While much of Ireland's approach work was crisp, it was the Danes who continued to generate the clearer goal-scoring opportunities.
Moloney tipped a powerful Signe Bruun strike over the crossbar and Diane Caldwell subsequently headed a delicate Nadia Nadim chip away from danger.
Facing into a 1-0 deficit, Ireland searched for an avenue back into the game on the restart.
They almost got it on 53 minutes, when a thunderous 35-yard drive by McCabe rebounded off the crossbar.
A Women's Super League winner with Arsenal in 2019, McCabe was also perilously close to finding an equaliser on the third-quarter mark.
Shooting from a right-hand angle, her free-kick drifted marginally past the far post.
O'Gorman was later introduced on 72 minutes for her 106th senior international cap, taking over from Celtic's Keeva Keenan on the right-flank.
Another replacement – Emily Whelan – hit the side-netting in stoppage-time, but Ireland fell just short at the end of an entertaining clash.