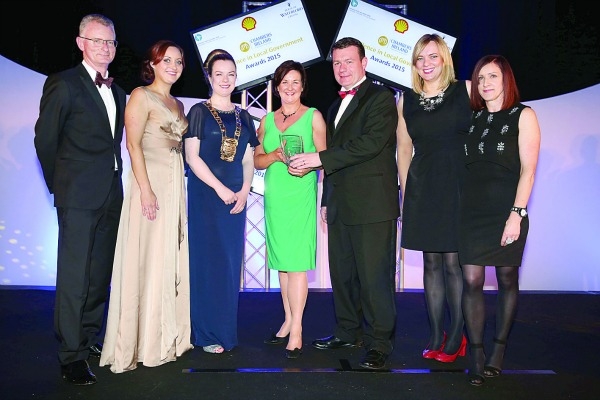 'Excellence' honours for South Dublin Council
By William O'Connor
South Dublin County Council was honoured at the 12th Annual Chambers Ireland Annual Excellence in Local Government Awards – with a double win for the Council's Libraries and Arts Services.
South Dublin County Council took the 'Best Library Service' Award for their programme 'Creative Campus: Supporting our second level students in South Dublin' and the 'Sustaining the Arts' Award for Tenderfoot: A volume of plays by and for young people, a partnership project with the Civic Theatre led by theatre artist Veronica Coburn.
In accepting the award, the Mayor of South Dublin County, Councillor Sarah Holland commented: "I am delighted that the work of South Dublin County Council and partner agencies have been recognised with these prestigious awards.
"South Dublin County Council strives to support the development of young people in our county – these projects offer a support to young people and encourage them to participate, learn and engage".
Chief Executive, Daniel McLoughlin added "The Chambers Ireland Awards are a great opportunity to recognise Local Authority Innovation at national level.
"I am delighted and proud of all the staff who were winners and those whose projects were shortlisted for these awards. It is important that their efforts and achievements are acknowledged by their peers".
READ MORE
Green light for Citywest Village –
Family gets €400,000 in 'flesh-eating'
Car thief abandons stolen vehicle
and escapes on foot – Click>>> HERE
Free parking proposal gets thumbs
down from council – Click>>> HERE
C
ouncillors complain of being
'frozen
out' of roundabout talks –