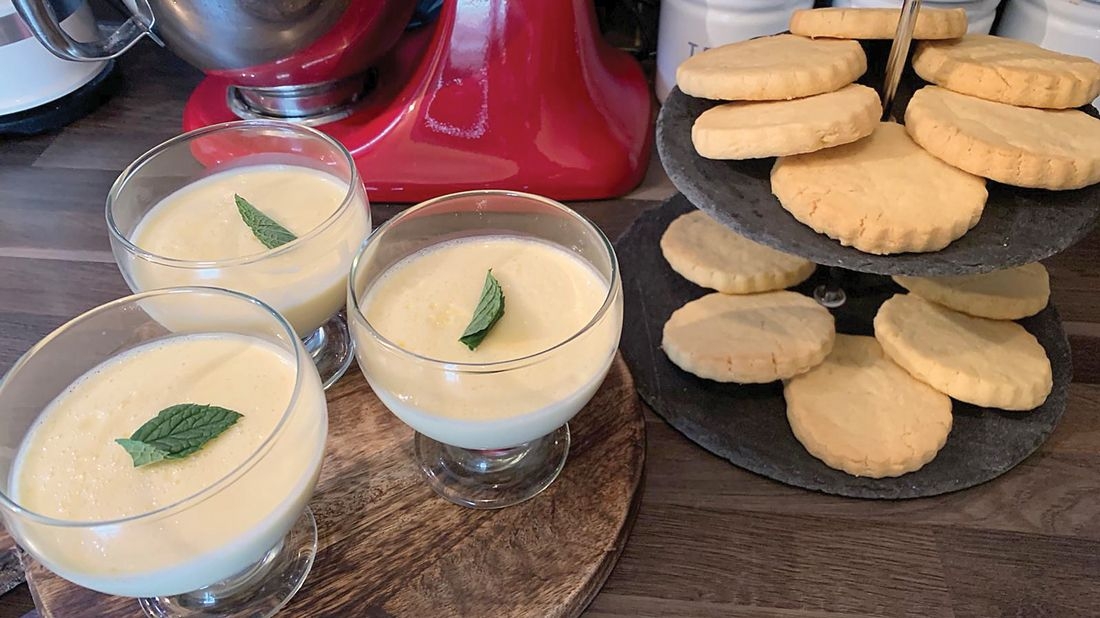 Food with JP Passion: Lemon Shortbread and Lemon Possets
By JP Kennedy
John Paul Kennedy is a self-taught cook and an avid fan of collecting cookery books with a passion for good old-fashioned home cooking. His passion for proper family cooking stems from his TWO Grandmothers who were both excellent cooks, one of whom was a trained chef. JP promises to bring us plenty of family-inspired recipes and tasty treats while showing us how to get the basics right.
I'm huge fan of citrus flavours and these two delicious recipes are a well needed hit of sunshine in everyone's lives right now.
These go perfect served together as a dessert and are both recipes with minimal effort for maximum taste.
You can experiment with the shortbread and make lots of different variations such as Apricot, Orange, pine nuts or simply plain and dip the end of each shortbread in chocolate.
My favourite is lemon but regardless of which one you choose to make, they will all go perfect served with this lemon posset to dip into this flavoursome quick and easy dessert. Another two perfect recipes to get the kids or all the family to pitch in and help to make!
Lemon Shortbread
Ingredients: (Makes 10 -12 biscuits)
110g castor sugar
Zest of one lemon
220g softened (not fridge cold) unsalted butter
370g plain flour
½ teaspoon vanilla extract
Method:
1. Preheat your oven to 160 degrees / gas mark 3 and line a baking tray with parchment paper.
2. Cream the butter and sugar together in a large bowl using an electric mixer or wooden spoon.
3. Add the vanilla extract and lemon zest – it will already smell delicious! Then add the flour a little at a time.
4. Don't panic the dough will be crumbly, tip it out onto a lightly flour clean surface and work together using your hands until it's nice and smooth and comes together.
5. Roll out into a rectangle shape approx. 1cm deep and use a cookie cutter to cut into squares, hearts, diamonds whatever shape takes your fancy.
6. Place onto the baking tray and bake in the oven for between 20 -25 minutes until the edges are just starting to brown as shortbread should remain quite light in colour but deliciously crumbly and buttery when you bite into them.
Lemon Possets
This has to be one of the simplest and most delicious desserts to make. I love to serve these in small individual glasses or bowls and serve with a piece or two of my lemon shortbread – Dessert heaven made from just three ingredients!
Ingredients:(Serves 2-3)
2 lemons
125g caster sugar
425ml double cream
Method:
1. Into a medium sized saucepan grate the zest and squeeze the juice of both lemons then add the castor sugar.
2. Place the saucepan over a low heat and bring to a boil. Stir occasionally until the sugar is dissolved.
3. Then whisk in your cream and cook for about 3 minutes.
4. Divide between your small glasses, bowls or ramekins, allow to cool before placing into the fridge for 2 hours to set or overnight of you prefer.
5. Best to remove approx. 15 minutes before serving allow to come to room temperature and serve on a saucer adorned with some delicious lemon shortbread and enjoy!
While it may look like a small portion, these are made out of double cream which is quite heavy and rich. The mix of citrus tartness and cream along with buttery shortbread is simple, delicious home-cooking at its very best and I'm hoping these two recipes will bring some much needed sunshine your way. The shortbread will last well once stored in an airtight container. Happy Cooking and Baking
Contact JP On:
Twitter: @JPKCooking
Email: JPKCooking@gmail.com
Instagram: jpkennedy.kennedy
By subscribing to The Echo you are supporting your local newspaper Click Here: Echo Online.