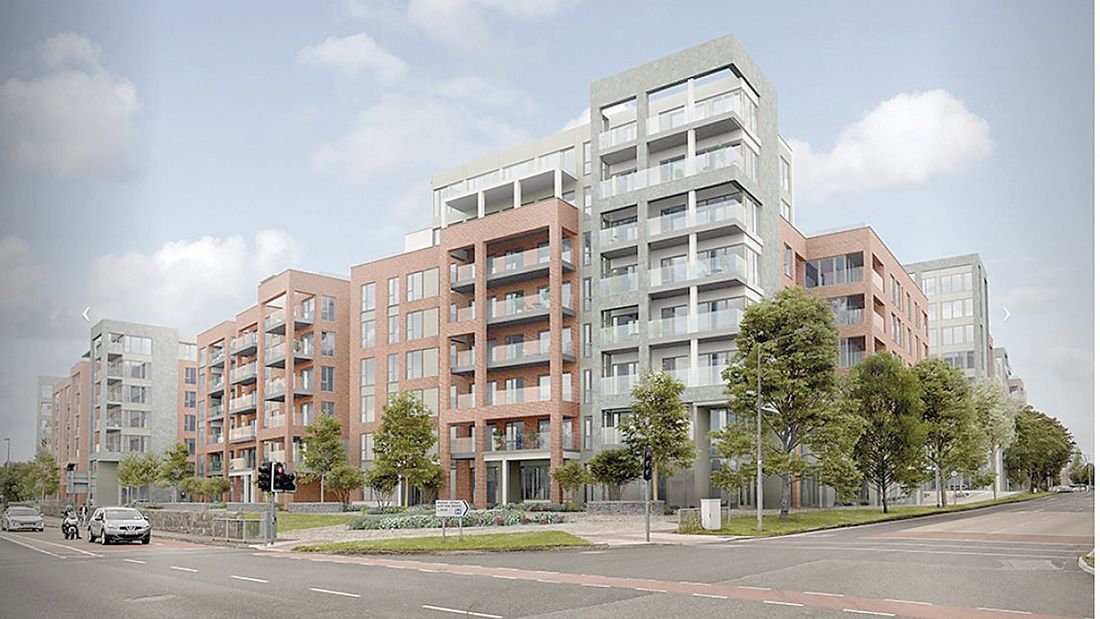 Gallaher's €110 million plans approved for 502 apartments
By Aideen O'Flaherty
PLANS for a €110m residential development, to consist of 502 apartments, at the site of the former Gallaher's cigarette factory at the junction of Airton Road and the Greenhills Road in Tallaght, have been given the go-ahead by An Bord Pleanála (ABP).
Greenleaf Homes Limited, who developed the Arena Centre in Tallaght in 2008, lodged the plans for the development of the strategic housing development (SHD) last February through ABP's fast-track system.
An artist impression of the apartments for Gallaher's site on the Greenhills Road
The former Gallaher's site fell into dereliction in recent years, but last year six acres of 'development land', which forms part of the site, went on the market for €4.5m.
Back in 2016, the site attracted the attention of Dublin Fire Brigade after they were called to the former cigarette factory twice in the space of a week to tackle fires on the premises, with a local councillor describing it as "clearly a crime site" at the time.
The newly granted plans for the site include the development of six blocks to house 502 apartments, following the demolition of the former factory, with the blocks ranging in height from four to eight storeys.
The majority of the apartments are to be two-bed units, totalling 257, while there are to be 197 one-bed units and 48 three-bed units.
Provision of residential amenities, to include three retail units, a crèche, bin store areas, 202 car-parking spaces and 584 bicycle-parking spaces, are included in the plans.
The former Gallaher's factory on the Greenhills Road/Airton Road junction
ABP granted permission to Greenleaf for the development this month, and the appeals board stated that, apart from the building height parameters, the plans are "broadly compliant with the current South Dublin County Development Plan 2016-2022".
In granting permission for the development, despite the height parameters contravening the local area plan, ABP stated that the development is of "strategic or national importance by reason of its potential to contribute to the achievement of the Government's policy to increase delivery of housing."
They added in their grant of permission that the development "would constitute an acceptable quantum and density of development in this accessible urban location, would not seriously injure the residential or visual amenities of the area, would be acceptable in terms of urban design, height and quantum of development and would be acceptable in terms of pedestrian and traffic safety."
By subscribing to The Echo you are supporting your local newspaper Click Here: Echo Online.