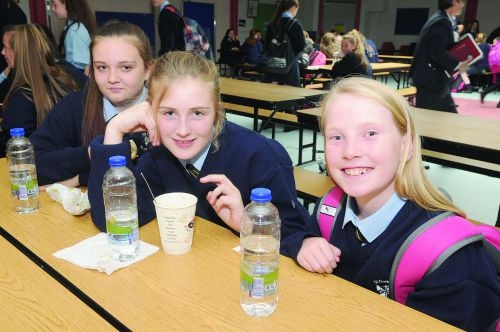 Healthy meals at St Dominic's school for only €2 per week
By Maurice Garvey
FIRST Year students in a Ballyfermot school are enjoying healthy meals every day for a minimal cost of €2 per week.
St Dominic's Secondary School recently renovated their canteen facilities - providing a chef and catering assistant to allow students access to nutritious lunches at affordable prices.
Principal Mary Daly cites research, which states every young person should receive one hot meal per day to ensure they engage and feel happy in school.
Ms Daly said: "We are delighted to have been proactive in responding to our own student end of year evaluations by providing an extensive range of healthy food options this year."
Hot and cold food dishes are on offer, including pasta with arrabiata sauce, homemade chicken goujons and mash, shepherds pie, macaroni cheese, along with an extensive selection of sandwiches, wraps and baguettes to keep the troops happy.
Whilst First Year students can enjoy five hot meals for €2 a week, other students can spend €2 to purchase a meal from the varied menu.
"Parents have stated that they are delighted with this in-school facility and that all schools should have a canteen for their students," said Ms Daly.
First Year student Jessica Doyle said the "lunches are very nice, healthy and are great value" whilst student Naomi Berry said "it's nice to have a hot lunch in school."
Residents can taste the meals for themselves during St Dominic's open day on September 23 – from 2.30pm until 6.30pm.
Read more: GANGS openly selling drugs in day-time deals beside a Tallaght primary school – Click HERE
Read more: Elderly woman sleeping in tent off High Street – ClickHERE
Read more: Park wardens at Le Fanu would sort out its anti-social problems say frustrated residents – Click HERE
Read more: Clondalkin community rallies around family and raises substantial amount for funeral – Click HERE
Read more: Balgaddy's long-standing housing problems a 'source of frustration' for residents -Click HERE