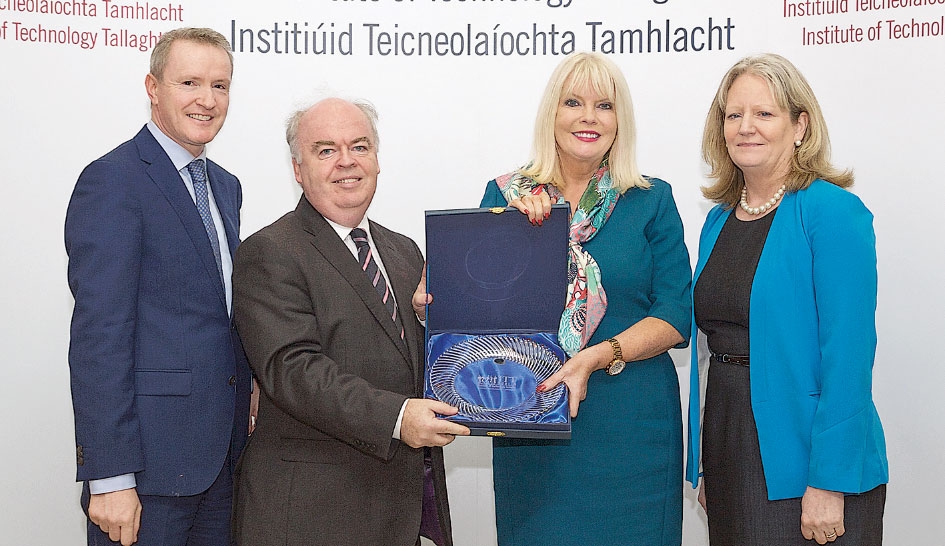 Honours International business degree launches in IT Tallaght
By William O'Connor
THE Minister of State for Higher Education, Mary Mitchell O'Connor TD, launched the new honours degree programme in International Business at IT Tallaght last Monday, November 20.
This level 8 programme (CAO code TA 125) was developed by staff from the Department of Management following extensive consultation with key industry stakeholders and second-level schools in the region.
Ireland Connected, the government's strategy for trading and investing in the competitive global environment, highlights that the key to sustaining jobs and incomes is our ability to succeed in international markets.
This course prepares students to work in an international setting. It provides an education in the essential disciplines of business with a specialist focus on the global business environment.
The new programme includes a mandatory 14-week accredited work placement in the third year of the programme either overseas or with an international company based in Ireland.
This will enhance student employability on graduation, and address the government's desire to bridge the gap between education and enterprise.
It will therefore attract bright, ambitious students and deliver globally aware, industry-ready graduates capable of making an immediate impact in the workplace.
Speaking at the launch, Minister Mitchell O'Connor said: "This new Bachelor in International Business Studies degree programme that we are launching today will provide graduates with core employability skills such as creativity, critical thinking, communication and team working.
"In the global economy of the twenty-first century, employers are increasingly focused on the student's skills and their 'work-readiness'.
"This programme certainly provides the students with the necessary skill-sets needed in today's business world."
Mr. Raymond Keaney, Head, Department of Management at IT Tallaght said: "We believe this new programme in International Business will be an extremely popular choice for Leaving Certificate students in the CAO in 2018. Given the uncertainty created by Brexit, strong indigenous exporting sectors will be key to Ireland's growth and will be a source of stable employment opportunities for the future".