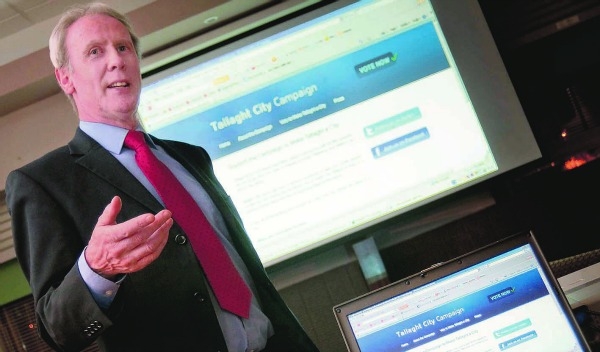 'Independent' decision of TD disappoints colleagues
By Mary Dennehy
AS THE dust settles on Deputy Eamonn Maloney's decision to resign from the Labour Party, his colleagues have expressed their disappointment over his move – but are remaining focused on the election battle ahead.
On Saturday afternoon, as broken online by The Echo, Dublin South West TD Eamonn Maloney announced his resignation from the Labour Party and his decision to contest the General Election as an independent candidate – with support from a number of local Labour Party members who are also believed to be leaving the party to assist Deputy Maloney on his independent trail.
A split in party tactics saw the veteran politician, and 30-year Labour Party member, unexpectedly withdraw his name from Labour's selection convention in July – due to his opinion that the party should only run one candidate in Dublin South West, not two.
Speaking to The Echo at the time, Deputy Maloney stressed that it was always his intention to run in the General Election for the Labour Party.
However, after arguing that the party should run only one candidate, he believed that it would have been "a contradiction" on his part to support Labour's chosen two-candidate strategy.
According to party insiders, the argument over the number of candidates for Dublin South West divided members, with many believing that it was a risk splitting the Labour vote.
Revealing his resignation decision to The Echo, Deputy Maloney said: "This was a very hard decision for me, I have been a member of the Labour Party for 30 years and my family has a very strong, loyal history with the party.
"Over the past four years the Labour Party has had to make some difficult decisions, decisions that weren't popular but had to be made.
"Going into coalition was the right thing to do, we went in to do a particular job . . . and many of the Labour politicians genuinely wanted to help move the country to an improved situation."
When asked if his withdrawal from Labour's selection convention in July was a deliberate decision to pave the way for his independent candidancy, Deputy Maloney said: "No, this was never my intention.
"In July, I expressed the view to the party that running two candidates in the forthcoming General Election would result in the Labour Party having no TD in Dublin South West . . . and I withdrew my nomination from the party's selection convention when the party decided to adopt a two-candidate strategy."
He added: "Since then I have received a lot of support from local people and local party members, some who have longer ties to the party than me, and it is based on this support that I have decided to run as an independent.
"I have always been a party person and never thought that I would be in this place and putting myself forward as an independent."
When contacted by The Echo, a Labour Party spokesperson said: "We are disappointed with Eamonn's resignation, but we are concentrating our efforts behind two very strong candidates who are running in the Dublin South West constituency.
"We don't think that Eamonn's decision will have a huge impact on the election at local level."
At the selection convention in July Cllr Mick Duff and Cllr Pamela Kearns were chosen as Labour's two candidates in the five-seat constituency of Dublin South West.
When contacted by The Echo, Tallaght Labour councillor Mick Duff said: "I do regret that Deputy Maloney has decided at this late stage to leave the party – he has been a member for so long.
"If he had problems with the fundamentals of the Labour Party or problems with any strategies, he should have raised them before making his decision to resign – but I do wish him all the best with his future career."
He added: "I don't believe his decision will impact on Labour's vote locally.
"I believe that there is a Labour vote out there and definitely one Labour seat to be won in the constituency, but Cllr Kearns and myself will be working hard to win two.
"There is a general air of recovery and while Labour had some very hard decisions to make, they stood by them and in four years helped to bring stability to the country."
READ MORE: Saoirse's dreams of being a zookeeper come true when she goes to Dublin Zoo – Click HERE
READ MORE: Attempted child abduction outside St Mark's GAA club – Click HERE
READ MORE: Women's refuge in Tallaght to close due to lack of funds – Click HERE
READ MORE: Residents shocked and sickened at animal cruelty incidents – Click HERE
READ MORE: Paper work delays planned extension for Lucan school – Click HERE