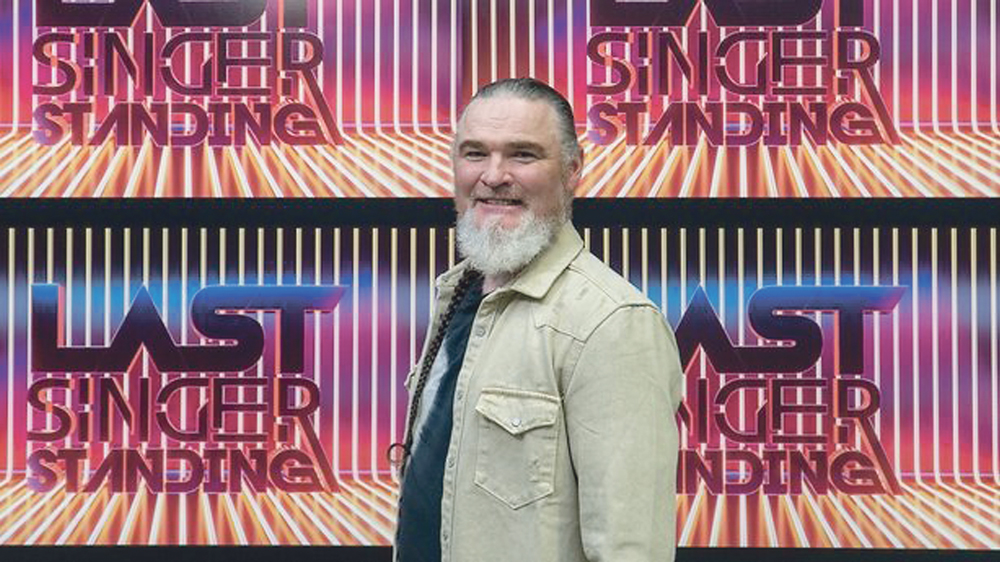 Joe (52) did not feel nervous when appearing on Last Singer Standing
A LOCAL singer appeared on RTÉ's new musical-based game show 'Last Singer Standing' over the weekend, where he met the celebrity judges and the other contestants, reports Aideen O'Flaherty.
The format of the show, which is hosted by Nicky Byrne and features NSYNC's Joey Fatone, Samantha Mumba and Nadine Coyle as judges, centres on pitting singers against each other to reach the final.
The winner of the show will receive €25,000, but in order to reach that stage the contestants will have to impress the judges, their fellow singers and the audience.
Among the singers competing is 52-year-old Joe Geoghegan from Fettercairn in Tallaght, who made his first appearance on the show last Saturday.
When asked what it was like to step into the television studio for the first time, Joe said he didn't feel any nervousness but was awestruck by his surroundings.
"I wasn't nervous, because winning it isn't important to me," he said. "I've done a lot of shows, so I'm fairly comfortable in those kinds of situations, but it was all a bit Alice in Wonderland.
"It's a big studio, and it may as well have been The Point. It was awesome, it was like gigging again in a big venue."
While he didn't get the opportunity to sing on last week's episode, Joe is hopeful that he'll get to show off his musical abilities in the coming weeks.
"Last week was my first week, so I didn't buzz in to sing, but this week I want to prove that I'm as good as the other singers," Joe told The Echo.
Joe is heavily involved in a musical and charitable group, which is made up of parishioners from the Church of the Incarnation in Fettercairn, St Thomas the Apostle in Jobstown and St Mary's Priory in Tallaght Village, called The Vine Group.
Trying to publicise the work of The Vine Group was a key factor in Joe's decision to apply for 'Last Singer Standing', and he said the potential prize money of €25,000 isn't a motivation for him.
"The money isn't important to me," he said, "and winning isn't important to me, but getting exposure is.
"With The Vine Group, we put on a couple of shows each year, and I thought it would be good to have 'As seen on TV' on the posters."
In their latest campaign, called Help Us Help Others, The Vine Group raised just shy of €2,000 to help local families in need this Christmas, and the group is hoping to put on shows again soon in the near future.
As for the new star of the group, Joe said he is hoping he'll wow the nation with his vocal abilities on an upcoming episode of 'Last Singer Standing'.
'Last Singer Standing' airs on RTÉ One every Saturday at 8.20pm until the grand final next month. All episodes up to and including last week's episode are available on the RTÉ Player.