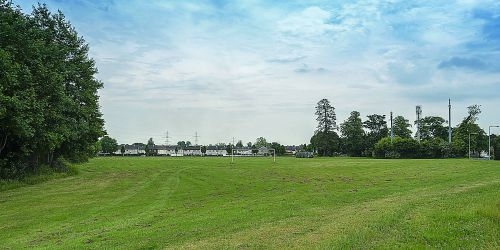 Letts Field infill housing gets the go-ahead after revised proposals
By Laura Lyne
THE development of infill housing on Letts Field in North Clondalkin has been given the go-ahead by South Dublin County Council following a consultation process with local residents which saw the proposed number of houses drop from 48 units to 37 units.
It was passed during the September meeting of South Dublin County Council, with 35 votes in favour of the revised development and one abstention from the vote.
Following the consultation process, a revised proposal for the site was presented to councillors to address the concerns presented.
As part of the revisions the number of units was reduced, the layout of the development was revised to increase privacy, steps to minimise disruption to adjacent schools will be implemented and a junior pitch will be provided with provision for a local playground area also included.
Many councillors welcomed the new plans for the proposal, with Sinn Féin councillor Eoin Ó Broin saying that the final proposal which "deals with concerns" [of residents] was created following a "very extensive consultation process".
He also noted that over 1,000 families in North Clondalkin are on the housing list, with more than 5,000 families in the wider area on the list.
Labour councillor Breeda Bonner said that the Letts Field infill housing was a "great example" of the Part 8 consultation process, with Fine Gael councillor Emer Higgins praising council management for the response to resident's concerns and for taking the feedback of residents on board.
Independent councillor Francis Timmons said that the final proposal for the development was a "sensible approach" to resident's concerns and that he supported the proposal, with People Before Profit councilor Gino Kenny saying that residents "don't want to lose greenspace" but know that the area "needs housing".
The approved infill housing development at Letts Field will see the development of 11 three-bed four-person units, 22 three-bed five-person units and three specially adapted dormer bungalow units.
Read more: No new developments in relation to Alan Redmond death – Click HERE
Read more: Letts Field infill housing gets the go-ahead after revised proposals – Click HERE
Read more: Heartless thieves steal from cars while mourners visit gravesides – Click HERE