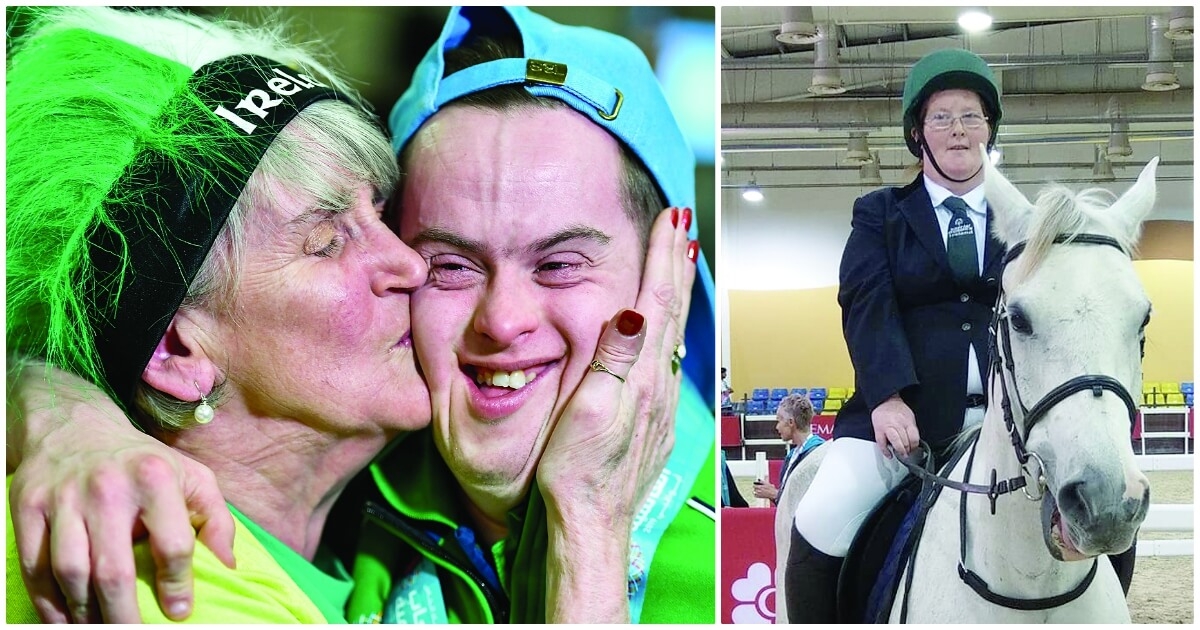 Local Special Olympic stars return home from brilliant World Games
LOCAL Special Olympics athletes returned home to a heroes' welcome across South Dublin last Friday following an unforgettable week of action at the 2019 World Games in Abu Dhabi.
All turned in great performances and played their part in a hugely successful Games for Team Ireland that boasted a sensational haul of 86 medals -30 gold, 29 silver and 27 bronze.
Stephen Murphy, of the Palmerstown Wildcats is welcomed home by his mother Theresa (left) and Tallaght's Sally Duffy was one of the stars for Team Ireland in the Equestrian field (right).
Ireland fielded only two rhythmic gymnasts in Abu Dhabi in South Dublin Special Olympics Club's Eimear Gannon and Rachel Murray and both certainly made their presence felt.
Indeed the former picked up no less than four bronze medals for individual disciplines in clubs, ball, ribbon and hoop while Rachel also won a bronze for her combined routines in rope, ribbon, ball and hoop.
A double medal winner in the 2011 World Games in Athens, Tallaght woman Sally Duffy (42) of Festina Lente Special Olympics Club delivered again in the Equestrian field this month with a silver medal in English Equitation and bronze in Working Trails.
What's more, she picked up a determination medal after having been thrown from her horse during the competition.
The Team Ireland soccer team who won bronze medals at the World Games with former Republic of Ireland International Niall Quinn.
The Team Ireland football squad, which included United Warriors players Daniel Byrne from Lucan, Ballyfermot's Patrick Furlong and Omer Teko from Walkinstown captured bronze following their 7-2 victory over Estonia.
Also adding two bronze medals to Ireland's medal haul was runner Alan Power (50) from Knocklyon who twice went third on the podium following great performances in 3000m and 5000m contests.
The Team Ireland Men's Basketball squad, that included Palmerstown Wildcats stars Jamie Ennis from Clondalkin, Keith Murphy and Stephen Murphy and Oisin Gilmartin from Palmerstown together with South Dublin Special Olympics Club's Tallaght trio of Thomas Coyle, Geoffrey Curley and Sean Winder, finished up fourth following their play-off against Switzerland.
Rachel Murrau amd Eimear Gannon proudly show off their World Games medals.
Tallaght's Michael Hardiman combined with Padraig Reilly from Wicklow to land a sixth-place ribbon in doubles tenpin bowling.
Also competing superbly for Team Ireland was golfer John Keating from Templeogue who won gold in his 18-hole Level 4 Strokeplay.
What's more, Phyl Kelleher from Rathfarn-ham served as a playing partner to Andrew Siming-ton from Dalkey and together they won gold in Level 2 Alternate Shot.