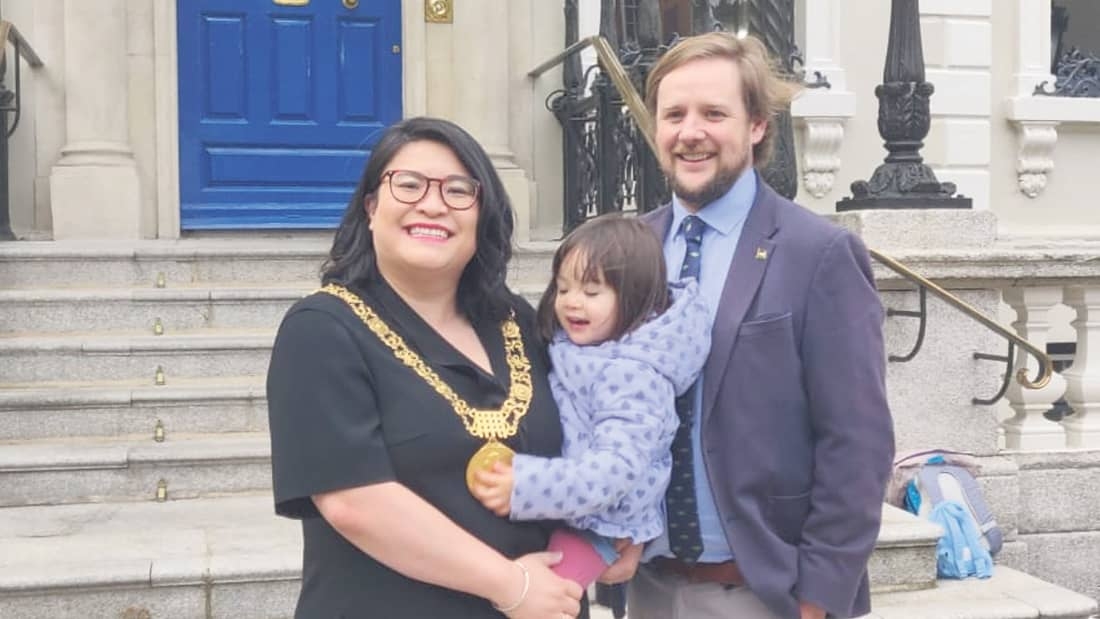 Lord Mayor announces she is running as unofficial Green Party candidate for the Seanad by-election
By Aimee Walsh
THE Lord Mayor of Dublin, Hazel Chu, has announced that she is running as an unofficial Green Party candidate for the Seanad by-election.
Green Party Councillor, Hazel Chu, submitted her nomination for the Industrial and Commercial panel in the upcoming Seanad by-election.
Lord Mayor Hazel Chu with partner Patrick Costello and daughter Alex
The Green Party said it was not putting forward a candidate and that Ms Chu "is not contesting the election as a Green Party candidate".
Ms Chu received nominations across the Oireachtas, including members of her own party, Green Party TDs Neasa Hourigan, Patrick Costello and Francis Noel Duffy, Green Party junior minister Joe O'Brien, Green Party Senator Vincent P Martin, Independent TD Marian Harkin and Independent Senators Lynn Ruane and Eileen Flynn.
The Lord Mayor, who grew up in Firhouse, also received a nomination from Culture Minister Catherine Martin.
Ms Chu notified her fellow members of The Green Party of her decision in a letter on Monday, March 22.
"Though I am a Green member, I understand I am not endorsed by the party since the executive made the decision not to hold a selection convention. I also understand there is no pact in place with any other parties as confirmed by the leader at the last executive meeting."
Ms Chu said that her decision to run as independent was not to be 'divisive' rather it was to ensure that there is proper representation.
"In this particular by-election panel there is no one from a diverse background or female, hence I felt further compelled to put my name on the ballot.
"Until we can show that it is normal that people from diverse backgrounds can be in political positions, this racism will continue."
She also added that in the current climate, she felt it was 'essential' that she follows what she preaches, by showing that anyone can run for election regardless of their background.
"This choice, as said, is a personal one, as is my candidacy.
"It is important to have women and minorities represented at this election."
The by-election will take place via postal voting from April 7 to April 21.
By subscribing to The Echo you are supporting your local newspaper Click Here: Echo Online.