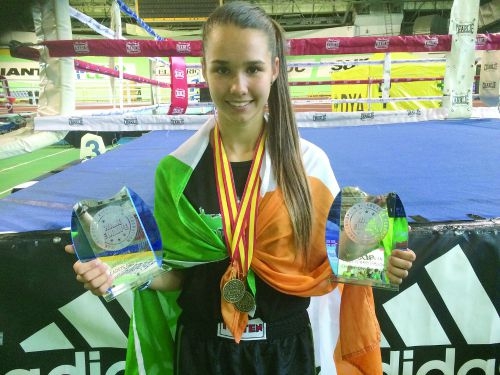 Nikitina leads the way for Bushido in Europe
By Stephen Leonard
BUSHIDO Clondalkin certainly made its presence felt at the WAKO Cadets and Junior European Championships in Spain with current double world champion Karyna Nikitina leading the charge for them.
In her points fighting division, she firstly made it by a tough German opponent, winning by two points, before beating a Slovenian by six in the penultimate rounds.
Her performance in the decider was even more emphatic as she carded an eight-point win over her UK challenger.
With that prize in the bag, Nikitina turned her attention to her shot at the European Continuous title.
And victories over Austrian, Italian and Polish opposition saw her become the only Irish junior competitor to win two double championships in points and continuous in successive years.
Officials, referees and coaches from the 36 nations represented were so impressed with her amazing feat that she was voted 'Best Points & Continuous' competitor out of all age groups in the European Championships.
"Karyna works so hard for her titles" said her coach Ilija Salerno. "She trains every night of the week and competes in every challenge.
"She has a strong team behind her in Clondalkin that pushes her and helps her in her training.
"It's a club effort that has helped Karyna to where she is and she is always the first one to say it" he stressed.
Meanwhile 16-year-old Gwen Hammond turned to ring sports later last year and split her training between Clondalkin and Blanchardstown where she trains under boxing coach and head coach to the KBI full-contact squad Jim Upton.
Hammond's change of discipline proved the right choice as she reached the finals of the Girls 16-17 Years -56kg division after a unanimous decision against a strong challenger from Team Latvia.
Her final was against the current European champ-ion and proved a thriller but the Russian southpaw emerged victorious leaving Hammond with silver.
Thirteen-year-old Max Popchenko made his debut in the Irish team colours competing in the Younger Cadets Boys -47kg division.
In his preliminary bout, he was drawn against the eventual winner from team Hungary, and despite a good start he was eventually outpointed by his much more experienced young opponent.
Luke Kelly, who only turned 18 prior to the championships, wanted to finish his last year competing as a junior on a high but his quest for European Championship glory was cut short as he lost out in the quarter finals.
Having finished runner up in last year's World Championships in Italy, Shannon Gayson was one of the favourites to reach the podium here.
But despite leading by six points heading into the final round, the Bushido competitor was pegged back and eventually edged out.
COMPETITION: Want to win a Shamrock Rovers jersey signed by Damien Duff? CLICK HERE…

LATEST NEWS: Local families left to cope with raw sewage influx…
LATEST NEWS: Joy as local boy with heart defect starts pre-school…

LATEST NEWS: Man who died in Clondalkin may have acessed house for shelter…
LATEST NEWS: Health authority has 'action plan' for special care unit…
COMPETITION: Win a Bioderma skincare pack – click here…