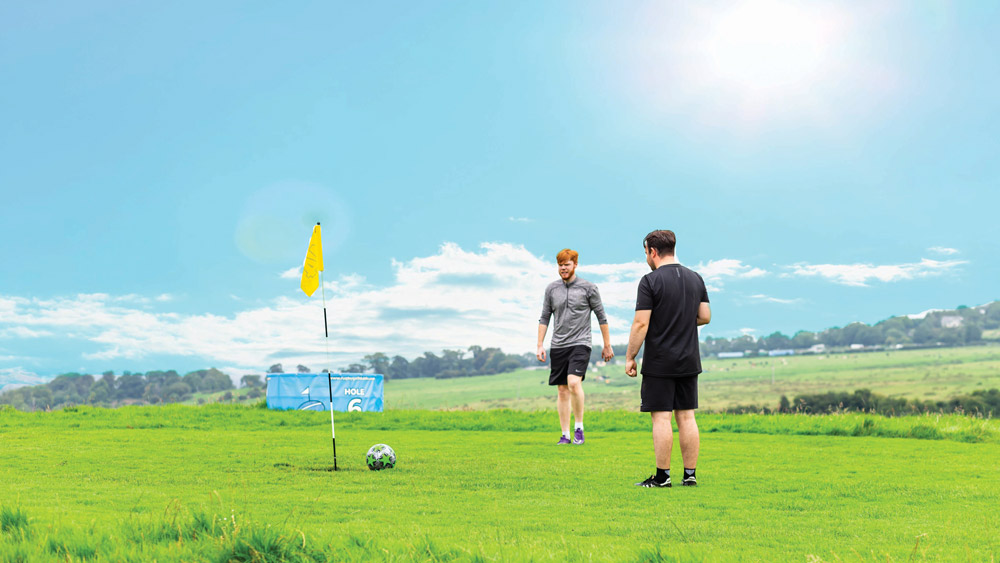 Summer Local – Get your summer kicks with Footee
GET your kicks at a unique hybrid sports experience centre based in the foothills of the Dublin mountains with Footee over the summer months.
What started off as Ireland's very first footgolf course in 2013, Footee has grown into a full-scale outdoor game experience that can enable friends, family, and workplaces to vie for bragging rights.
Footgolf has grown into a tried and tested near guarantee for an enjoyable day out.
The 18-hole course puts every ounce of footballing ability to the test with the long drives, calculated chips and putting while rugby golf is also an option.
With bubble football, sumo and bulldog, people are encased from their waist up in see-through zorb bubbles and must try work as a team while minding they don't get sent bouncing by an enthusiastic opponent.
Robin hood meets dodgeball in the high-octane, combative activity called Battlezone Archery while human foosball is also an option in the human-sized foosball cage.
Reliving the glory days of childhood is an option with the Old School Sports Day while testing ones aim is on the line with foot darts.
If you can dodge a wrench, you can dodge a ball. Well not a wrench. But one must act like a wrench is flying at them to stay in the highly-competitive dodgeball game and be crowned winners.
We all know the saying made famous by the film, you need to follow the five d's of dodgeball to succeed – dodge, duck, dip, dive and… dodge. And don't worry, the dodgeballs are soft.
Footee is best enjoyed in a group, with the crew there catering for birthday parties, corporate groups, stag and hen-do's as well as sports teams with their various different packages.
In The Classic package, people get to take part in footgolf and get the opportunity to really rub the results of the game in with some pizza afterwards.
Pizza is included in every package, with bubble football, battlezone archery or an old school sport day the activity options with the Game Changer package.
In Pick n Mix, the same three activities can be mixed with either foot darts, foosball or dodgeball while in Mega Mix, people can avail of two of choices outlined.
Footee is in Ballinascorney, a stone's throw away from Bohernabreena Reservoir and just 10-minutes from Exit 12 of the M50.
Anyone eager to get their kicks with Footee can contact 087 395 2548 or email info@footee.ie