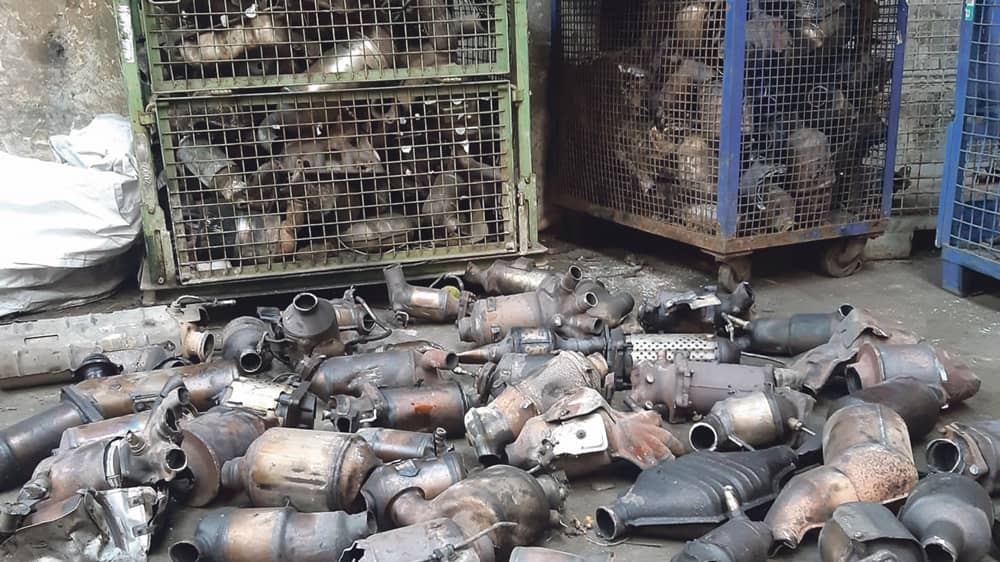 TD's Catalytic converter stolen from hybrid car
By Maurice Garvey
UP TO 115 catalytic converters have been stolen from cars in the Tallaght policing district since the start of the year – with Marlay Park in Rathfarnham particularly affected by the crime.
According to senior gardai, global prices pushing up the price of precious metals found in the converters, has contributed to an increase in thefts.
Catalytic converters seized at Dublin Port this month
Stolen in seconds, thieves cut off part of the exhaust system to cash in on the rising value contained within the converters, including rhodium, palladium and platinum.
Speaking at the JPC Policing meeting on Friday, Superintendent Ian Lackey, Tallaght Garda Station said the precious metals are then smelted down by criminals.
"Each one (catalytic converter) has about 7-9 grammes of precious metals, which world prices have pushed up. It is very hard to trace back to vehicles because there are no individual numbers on them.
"Originally it was Eastern Europeans, it takes them less than 30 seconds, using a trolley or a jack. The Irish criminal has now learned the trade."
The extent of the trade was visible during a major garda operation in Dublin 11 last week, which uncovered 2,150 catalytic converters and 14 drums of smelted catalytic converters, with a combined value of €2.2 million.
Each drum contained approximately 300 catalytic converters in powder form.
While difficult to trace parts back to the victims, it is possible that some of the converters found on the northside were stolen in South Dublin County.
One recent victim was Dublin Mid West TD Mark Ward, whose hybrid car was targeted by criminals.
"A couple of weeks ago, I was at home where I live in an apartment block in Lucan. My car was parked in a secure underground car-park. On the same day, three catalytic converters in an adjacent car park were stolen," said Deputy Ward.
"My local dealership said I was the sixth person in the last two weeks with the same problem."
Deputy Ward welcomed the garda seizures if it curtails criminal operations, but feels car manufacturers need to do more.
"I got a hybrid because I'm trying to do the right thing but something needs to be done by manufacturers so these metals are not in them.
"There is a lock you can get, but the worry is they will just take the whole exhaust.
"It is not a victimless crime. I'm lucky in that I have a good relationship with my dealership who lent me a car, and I'm a TD, but it cost €1,300 insurance, €300 of which I have to pay after the surcharge, and it could affect your premium.
"You lose part of your no-claims bonus, the only way you can get that back is you have to get the stolen part back, and there is no way of tracing it back to owners.
"A lot of victims are in worse positions than me. It is a big disruption and a major chunk of change for people to deal with."
During the course of the Dublin 11 operation, a man in his 20s was arrested and is due to appear before the Criminal Courts of Justice on May 13. A vehicle and €74k in cash was also seized.
The search was conducted as part of the ongoing investigation into the theft of catalytic converters throughout the Dublin Metropolitan Region and included officials from Customs and Revenue and the National Trans Frontier Shipments Office.
Further garda operations this week uncovered catalytic converters with an estimated value of €480k in Dublin Port.
On Monday, a vehicle was searched on the N7 containing 23 catalytic converters with a valued at €23,000, and a further search on a storage facility in Dublin 11 where 135 catalytic converters, valued at €108,000 were also recovered.
By subscribing to The Echo you are supporting your local newspaper Click Here: Echo Online.