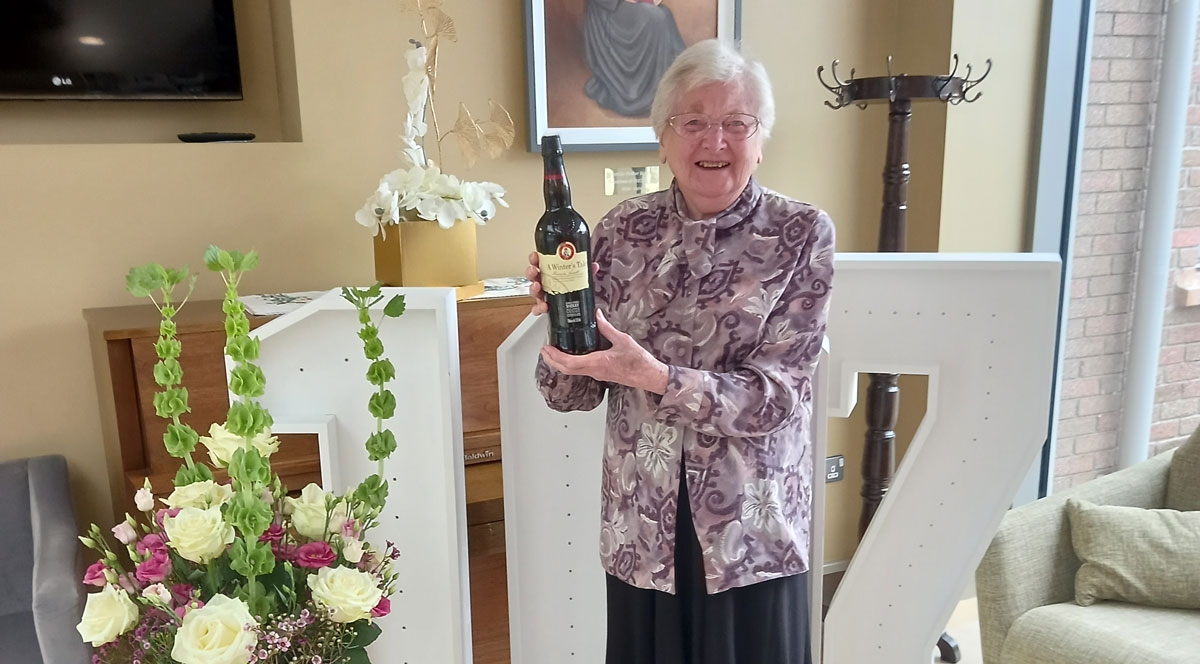 Trailblazer Máirín celebrates her 107th birthday
By Maurice Garvey
A SPECIAL birthday today for a special lady – Chapelizod resident Máirín Hughes celebrated the big 107 with her nearest and dearest at Maryfield Nursing Home.
The Garda band was on hand to serenade the sprightly Centenarian, who was born in 1914, but appears to be far younger than she is, and was in great form as always when speaking to The Echo this week.
Máirín being presented with flowers by Sabina Higgins
Maryfield commissioned a 'pope-mobile' to bring Máirín out for a spin in Chapelizod and the Phoenix Park, where she met Sabina Higgins who presented her with flowers.
Speaking to The Echo ahead of the event, the details of which were kept under wraps until the big day itself, Máirín said she "doesn't like too much of a fuss."
Máirín with the bottle of sherry that was presented to her by The Echo
"Maryfield is very special. They do things tastefully and are so considerate," said the birthday girl.
"I thank the Lord I'm in Maryfield everyday. I feel like Susanna and the Elders (a biblical reference to the unwanted attention Susanna endured in the Book of Daniel)."
Last year, Áras an Uachtaráin, said Máirín was approximately the tenth oldest person in Ireland.
The Echo is awaiting confirmation of Máirín's more recent place in the chart, albeit the records are dependent on families and nursing homes updating the database from month to month.
Máirín with Sr Elizabeth and Maryfield Staff Members
A trailblazer for women in the workplace between the 1930s and 1960s, Máirín did a degree in science and a diploma in education at University College Cork, and worked in the pathology lab in UCC's Department of Medicine for 14 years.
She lived through the Spanish Flu pandemic of 1918-19, which killed at least 50 million worldwide, and recalls dropping food supplies to the doorstep of sick neighbours with her older brothers Ruaridh and Conn before "running away."
Máirín loves the scenic surroundings at Maryfield, which has a fantastic back garden overlooking the Weir, with benches and night lights.
She gets out for a walk everyday, is a woman of faith, an avid fan of classical music and literature.
Máirín received a cheque from the President in 2013 on her 100th birthday and will have seven commemorative coins this week, but concedes a preference for the cheque.
The Echo presented Máirín with a bottle of her favourite sherry A Winters Tale.
"My father Liam Sheehan loved that sherry. I always knew it was Christmas when I saw that on the table," she said.