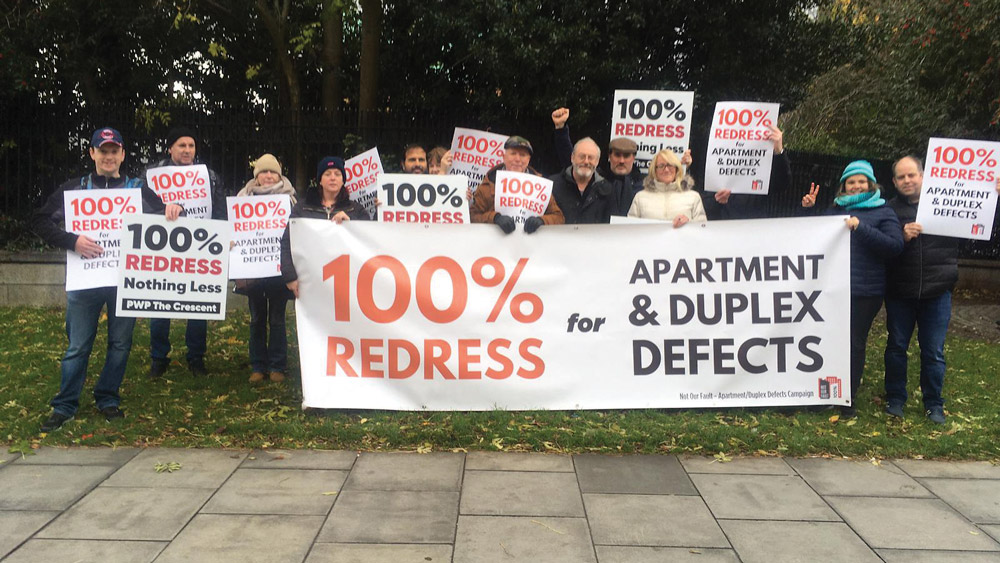 'We were sold a dream – ended up in a nightmare'
OWNERS of properties affected by defects are to protest outside the Dáil in the lead up to Christmas, amid efforts to meet in person with Housing Minister Darragh O'Brien and thrash out a deal for 100 per cent redress.
Members of the 'Not Our Fault' campaign, including apartment and duplex owners in Park West and Hunterswood, Ballycullen, were among those who participated in the Raise the Roof protest over the weekend.
Numerous developments built between 1991 and 2013 are facing serious financial pressures to pay for defects they knew nothing about when buying their properties.
In many of the cases, including Park West and Ballycullen, owners are facing bills up to €70k, and a demand of a €15k first installment by the end of December.
"There was a good turnout at the protest on Saturday, and we have a few other developments that have come forward to join the campaign," said a member of the group.
The plight of the affected buildings featured on RTE's Primetime, and the extra exposure provide some of the worried owners, with a brief respite.
"After Primetime, we met residents in The Crescent building (Park West) and they thanked us for speaking for everyone in the development," said a Not Our Fault member.
"It was the first time in weeks that a lot of people had a smile of hope on their faces, and said they were able to get a good night's sleep for once. We still have a bit of a road ahead in our campaign for 100 per cent redress."
Not Our Fault have requested a meeting in person with Minister O'Brien, and plan to protest outside the Dáil on December 7 and 14.
"We are letting them know we're not going anywhere until we get our buildings fixed. We were sold a dream and ended up in a nightmare."