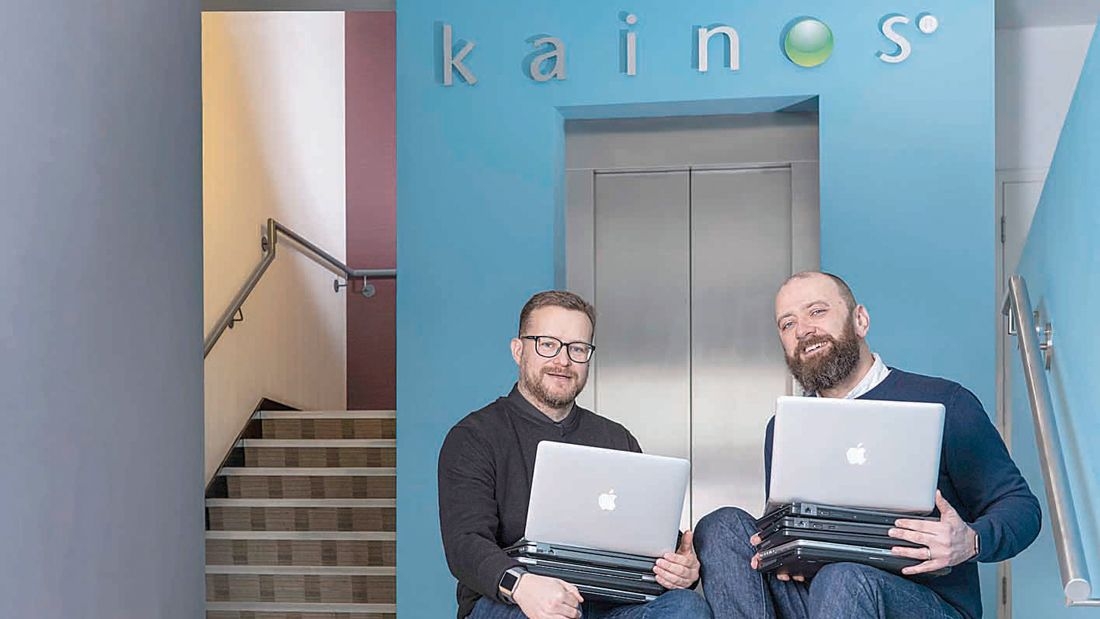 AMI helps tech company raise €60,000 with IT equipment resale
By Maurice Garvey
RATHCOOLE-based IT recycling company AMI announced it has helped leading Northern Irish technology company Kainos raise €60,000 through the collection, refurbishment and resale of its old IT equipment, reports Maurice Garvey.
Kainos will donate €30,000 of the funds generated to local charities as chosen by its team.
Dougie Johnston, IT Operations Manager, Kainos; and Philip McMichael, CEO, AMI
The remaining €30,000 will be used to support its Academy programme, which aims to improve young people's digital skills and break down the economic barriers faced by many attempting to upskill in technology.
AMI handles the entire IT disposal process for Kainos and has freed up to three months of the IT team's collective time each year.
Headquartered in Belfast and with offices in Dublin, Kainos has over 1,550 employees and 13 locations across the UK, Europe and North America, and has a high turnover of IT equipment.
AMI managed its entire IT disposal process – including onsite collection, data cleansing, resale of items of value, and responsible recycling of other equipment.
AMI visits Kainos's locations to securely collect its old IT equipment, before erasing data on each device and refurbishing them to the highest standards.
Dougie Johnston, IT Operations Manager, Kainos said: "Much of the equipment we dispose of is in very good condition, and the ability to resell this and generate revenue for our social responsibility programmes is a huge bonus.
"Our technology outreach activities also require our staff to actively participate in improving digital skills in their local community by visiting schools and camps and sharing their IT knowledge."
Philip McMichael, CEO, AMI, said: "We are thrilled to help Kainos not only handle its IT disposal in a 100 per cent environmentally friendly way, but also to contribute to the digital education of thousands of young people, helping them to imagine and realise a better future supported by technology."