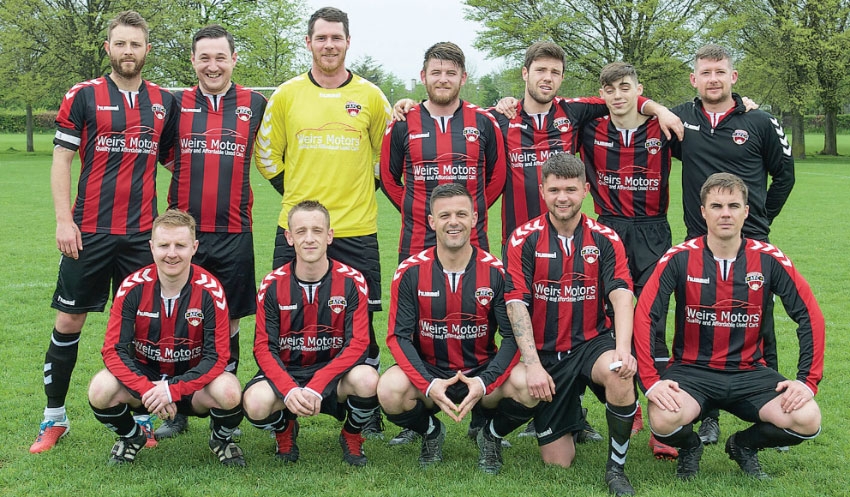 Aylesbury surmount high-flying Colepark to clinch promotion
By Fergus Balfe
AYLESBURY sealed promotion in style with an impressive victory away to Colepark United in a fast and furious LSL Premier One clash at Markiewicz Park on Sunday.
In a straight shoot-out for a promotion place, the stakes were high and a feisty encounter ensued, with the scores level 1-1 at half time, before Aylesbury turned the screw in the second period.
Colepark came into this game on the back of six wins in a row to storm up the table, and their early pressure was rewarded with a perfect start when midfielder Jordan Sheridan slipped in winger Lee Curley down the left, and he slotted an excellent finish into the corner.
The lead would last just five minutes for the Ballyfermot side, as Aylesbury midfielder Dean Harte's deep cross from the left was blasted in off the crossbar by winger Anthony Halpin at the back post to see his side hit back in perfect fashion.
Aylesbury were slowly gaining the upper hand, with Halpin and central midfielder Owen Hamilton linking well with frontmen Karl Tate and Nicholas Byrne, though clear-cut chances were few and far between for the Tallaght side.
For all their good play, it was an innocuous long ball forward by Aylesbury 'keeper Brian O'Reilly that led to the best chance of the half, but his opposite number Peter Maxwell made an important save one-on-one for Colepark, after Tate had played in Byrne.
Though the parity in the scoreline at the interval did not do the visitors justice, they soon put that right when play resumed, albeit in fortuitous circumstances.
Aylesbury defender Stephen Daly's header reached Byrne in space on the left, and when Maxwell saved his shot on target, the ball ricocheted in off centre-back Lee Murphy for an own goal.
That freakish score was almost repeated moments later, as Aylesbury substitute winger Ryan Forde's driven cross was parried by Maxwell into teammate Jamie Kavanagh, but the defender managed to scramble back to clear.
Nonetheless a similar cross from Hamilton minutes later flashed across the face of goal, giving centre-back Keith Purdy a tap in at the far post.
The now-rampant Tallaght men made it 4-1 soon after, as Byrne was fouled in the box following Harte's pass, and Tate stepped up to convert the resulting penalty.
Colepark did earn a lifeline with 15 minutes remaining, as replacement David Cullen's free kick delivery was headed home by attacking midfielder Adam Wasser.
United kept up the fight in search of an unlikely comeback, with O'Reilly acrobatically denying Cullen before Sheridan also went close.
However, the day belonged to Aylesbury, and they put the icing on the promotion cake in stoppage time, as Forde chased a ball into the corner and delivered for fellow sub Daniel Conroy to finish into the net and cue jubilant celebrations.
COLEPARK UTD: P. Maxwell, S. Power, C. Butler, J. Kavanagh, L. Murphy, J. Sheridan, A. Wasser, S. Coyle, A. McGarry, J. Byrne, L. Curley. SUBS: T. Byrne, C. Mooney, D. Cullen, A. Dunne.
AYLESBURY: B. O'Reilly, R. Keogh, A. Prendergast, S. Daly, K. Purdy, I. Farrell, A. Halpin, D. Harte, K. Tate, N. Byrne, O. Hamilton. SUBS: R. Carroll, R. Forde, A. Dowdall, D. Conroy, G. Parkes, M. Wilson.