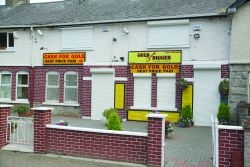 Cash for gold trade fuels spate of burglaries in area
By Mary Dennehy
AN URGENT call has been made for the regulation of the cash for gold sector amid fears that the gold trade is causing a surge in household burglaries, with a Tallaght Cash for Gold business also targeted by raiders last week.
Local Fianna Fáil councillor John Lahart has this week raised concerns over a spate of gold robberies across local communities, robberies which he believes are motivated by the "booming cash for gold" trade.


Cllr Lahart said: "A number of estates across Dublin South West, from Ballyboden to Newlands Cross and in between, have been targeted in recent months by criminals who are specifically looking for cash or jewellery.
"Some unfortunate residents have had their homes burgled more than once in the space of six months – with all the attendant trauma and distress that this causes.
"Local gardaí have told me that these criminal gangs are often leaving behind larger valuables in favour of gold jewellery because it is so easy to sell."
He added: "It is high time to get tough on this type of crime.
"The latest figures show that burglaries in Dublin increased by eight per cent again over the last year.
"There is no doubt that this is down to a slash and burn of local garda resources, a reduction in the garda presence on our streets and the fáilure to put in place proper deterrents for criminal gangs who are targeting homes across the city.
"It's three years now since the Government made a commitment to regulating the cash for gold sector.
"Still nothing has been done.
"It's not good enough to continue to put this on the long finger, while homes across Dublin are targeted by criminals looking for quick cash. I am calling on the Justice Minister to act on this urgently."
Last week, a Cash for Gold store in Tallaght Village was burgled and a number of pieces of jewellery stolen.
Nobody was on the premises at the time and investigating officers are currently examining CCTV.
Speaking in the Dáil earlier this year, the Minister for Justice and Equality Frances Fitzgerald TD said:
"I am examining the best approach to regulation in the area of cash for gold business providers, having regard to the potentially significant impact on legitimate businesses.
"It is important to recognise that any legislation in this area would have a potentially significant impact on a broad range of businesses.
"There are a large number of legitimate businesses such as jewellers, antique dealers etc., as well as 'cash for gold' outlets that would be impacted upon."
She added that officials in her Department had drafted a proposed consultation document, which will be submitted to the Minister.