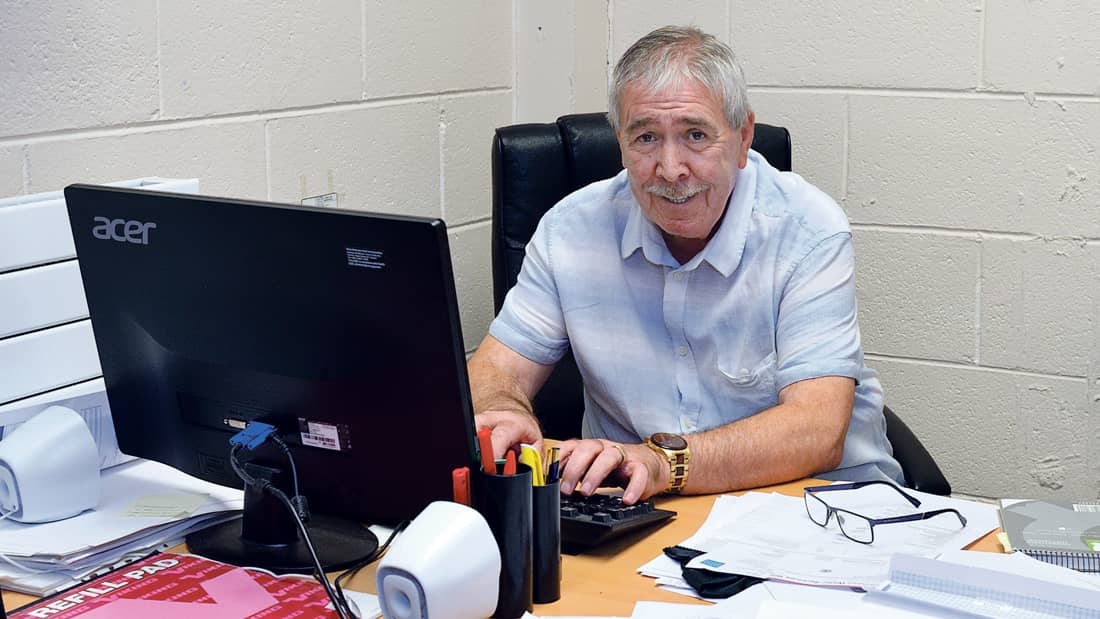 Founding member of Swan project retires
By Mary Dennehy
EAMONN White is this week retiring from pioneering Tallaght project Swan, after spending more than 25 years as a leader in the area of family support.
Living in Fettercairn since 1979, Eamonn was one of the founding members of PRIDE [People Involved in Drug Education], a Tallaght-based education project in the nineties from which Swan Family Support emerged.
Swan project leader Eamonn White
As a resident of Fettercairn, Eamonn saw first hand the issues affecting his community, and was ahead of his time in identifying a need to provide support to all family members and individuals under stress as a result of substance abuse.
The first centre of its type in Ireland, Swan has spent the past 20 years highlighting the importance of family support when it comes to treating addiction issues – providing stress management not only to the person suffering from addiction but parents, partners, grandparents,children, brothers and sisters.
Swan offers counselling, stress management therapies, support groups, child therapy, referrals, advocacy support, an outreach service and a listening ear and a cuppa – all from its welcoming centre beside St Anne's national school in Fettercairn.
"There was a need for services, a community demand for services like counselling, education, addiction support", Eamonn said.
"As one of the founding members of Pride, people were coming to me asking for help, so in 2001 Swan was founded.
Eamonn White is retiring from the Swan Project
"Swan started out exclusively as a service for families affected by drug and alcohol issues.
"However, it grew.
"We got to a stage where no-one was turned away.
"We support families with all types of issues, whether it be addiction-related or not."
Eamonn White (right) with staff members of Swan Family Support
When Eamonn moved to Tallaght in 1979, issues around drug use were just starting to emerge in the city centre.
"It started in the early eighties in town and came out to communities like Tallaght", he said.
"Tallaght was so remote at the time but it didn't take long for [drugs] to take hold in communities outside of the city centre…. and here they've remained to this day."
He added: "The issues [around drugs] have changed recently.
"Heroin was a scourge for a long, long time but today, it's crack cocaine, weed and alcohol."
Based on the ground in Fettercairn, Eamonn stressed how Swan has over the years been able to adapt to emerging trends, responding to the needs of the community through a tailored approach.
"Swan is very flexible and able to adapt as it is a community-led organisation", he said.
"We didn't have to wait to take action and could respond quickly to emerging trends in our community."
Looking back over the years, Eamonn said: "I've had some fabulous times at Swan, some happy times and some very sad times.
"The people we have lost, will always stay with me."
He added: "What was amazing about Swan was how so many people came in, both CE [Community Employment] staff and clients, who ended up doing fabulous things.
"When you give people a chance, an opportunity, amazing things can happen, and Swan proved this over the years.
"We've had people come to us on a CE scheme who have gone on to further education or are working in jobs across the health service or have opened a practice as a psychotherapist."
Throughout the interview Eamonn spoke about the potential people living within communities across Tallaght have, and the positive outcomes that can be achieved when individuals and families are provided with support or a fair chance.
The South Dublin County Partnhership is, under the request of Eamonn and the Board of Swan, taking over the management of the visionary centre.
Looking forward for Swan, Eamonn, who said he will "absolutely miss" the centre, said: "I have left the partnership with an idea of where I would like to see Swan going over the coming years.
"I'd like to see Swan developed into a family resource centre, that is what's crushingly needed in Fettercairn."
Speaking with The Echo, Larry O'Neill of the South Dublin County Partnership commended Eamonn and wife Marie for the investment they have made to their community.
"Swan has a fabulous reputation and we want to build on that and build on family support in the area", Larry said.
"We all recognise the wonderful job Eamonn had done, himself and Marie have supported so many through their commitment to family support."
In line with Covid-19 guidelines, Swan is not operating as normal at present, delivering its counselling service only.
For further details on Swan visit www.swansfo.ie or follow the organisation on Facebook.
By subscribing to The Echo you are supporting your local newspaper Click Here: Echo Online.