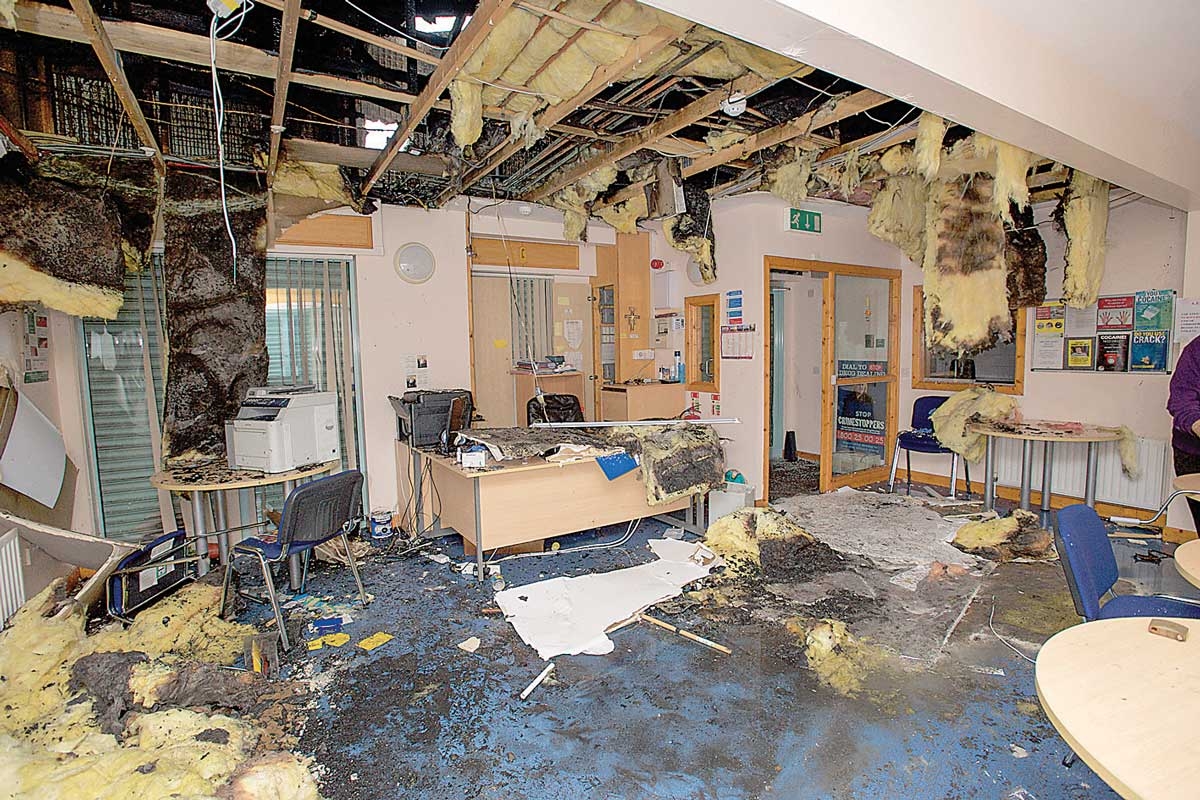 Gardai investigate substantial fire damage to drug project
By Mary Dennehy
THE parish of St Aengus has been left devastated after the home of its community-led drugs project was severely damaged in a fire on Sunday.
On Monday morning, the drugs project relocated to the St Aengus Community Centre while the damage was being assessed.
The St Aengus Drug project damaged by fire on Sunday night
However, hopes that the move would be short-term were dashed in recent days, as substantial structural damage was identified – with further collapse in the roof.
Speaking with The Echo, councillor Mick Duff, who is also the Manager of the St Aengus Drug Project, said that gardai are investigating the cause of the fire – which started at around 5.30pm on Sunday.
"Gardai are looking at CCTV from across the area and from the building," Cllr Duff said.
"The cause of the fire is still not known but gardai are investigating."
He added: "The damage is much more widespread than we realised, with the fire causing a number of structural issues.
"There was also further collapse in the roof in recent days and the other rooms are now at risk.
"It looks like the council will have to secure the site completely."
To add to the devastation of staff and the wider community, the project was also robbed later that night.
"The centre wasn't as secure after the fire and somebody took advantage," Cllr Duff said.
"They removed the temporary shuttering we had put up after the fire.
"They took a telly, three computers and an empty drug safe.
"This is under Garda investigation as well."
Community
Established in 1996, the St Aengus Drug Project was created by the community, after locals recognised a serious drug problem across the entire St Aengus Parish area.
"The community rallied behind the development of the project and got involved in fundraising," Cllr Duff said.
"The service was created by the community and it is still being run by the community.
"It's embedded in the community and it's more than a drugs project, it's a drop-in centre for people to access information, pick up passport forms etc.
"It's vital to us here in the community, so many people depend on it and it's an employer as well."
The drug project will remain in the St Aengus Community Centre for the foreseeable future.
"Every single member of staff and everybody involved in the project is devastated, I've never seen so many tears," Cllr Duff said.
"It couldn't be worse if it was your own house, people are really hurting.
"However, we are so overwhelmed by the amount of support by our fellow community drug projects, local businesses and the council.
"Also, the community centre staff who have welcomed us in."
Cllr Duff has encouraged anybody with information on the fire or the robbery later that night to contact Tallaght Garda Station on 6666000.