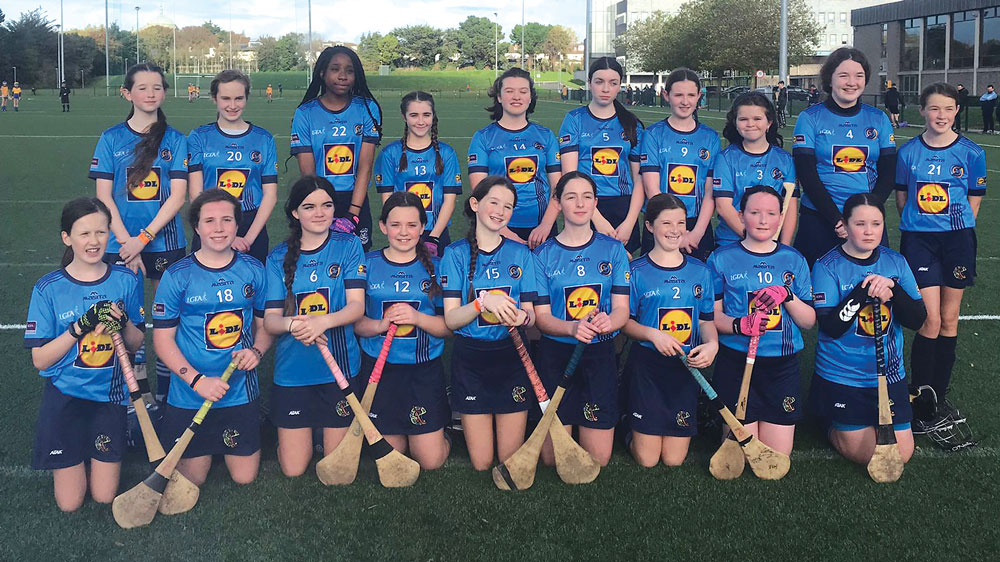 Historic day for Na Gaeil Óga U13 camogie team
NA Gaeil Óga had a historic day when the Under 13 camogie team won the club's first ever under-age championship final on Sunday, October 30, defeating Na Fianna (3-0 to 2-0) in Coláiste Pádraig, DCU.
The Lucan side played against a very strong Na Fianna team on a dry but very windy day.
Sadhbh Ní Máirtín settled the nerves of the Gaels and the crowd with a great goal to start things off.
Hard work from Aoibhinn Ní Ailpín, Síofra Healy and Tara Ní Conelúir continued around the square keeping the Na Fianna goalkeeper on her toes.
With diligent work from Noreen Igbeta and Sally Campion, it was very difficult for Na Fianna to get the ball out of their own half for the first 20 minutes.
Olivia Ní Nia strengthened Na Gaeil Óga when she went further outfield.
Na Fianna broke through to the goal line only twice with tenacious NGÓ full-back Leah Nic Giolla Padráig keeping out both efforts.
Éabha de Búrca and Sophie Ní Béinéid's marking was brilliant, as well as a great game awareness and athleticism to be seen from all the Na Gaeil Óga girls.
Another goal from Sadhbh left the Lucan side two goals ahead at half-time.
In the second half, midfielders Caitlín Ní Fheargail and Ruby Ní Foghlú showed their skills and enthusiasm with a constant fight around the middle of the field.
Anna Nesbitt and Alva Ní Throitigh were constantly keeping the Na Fianna defenders on their toes, while Chaoimhe de Búrca did brilliantly.
Irina Ní Chonelúir and Eve Ní Farchellaigh showed high levels of fitness as Na Fianna threatened to overwhelm Na Gaeil Óga in the second half.
Tara Ní Éabhroid showed courage throughout the game as she defended with ruthless determination.
With leadership from the hero of the game and captain Aoibhe Ní Léanácháin, Na Gaeil Óga managed to hold out for a deserved victory.
Coach Annamarie Farrelly said: "This group of girls have had a fantastic year, we are very proud of them and all the hard work and determination they have shown."
Cathaoirleach na nÓg, Na Gaeil Óga (Youth Committee Chairman), Gerry O'Connell, said: " Táimid ag súil go mbeidh go leor laethanta iontacha mar seo againn amach anseo (We hope that our young club will have many great days like this in the future).
"Na Gaeil Óga abú!""
Na Gaeil Óga: Caoimhe de Búrca; Sophie Ní Bhinéid, Leah Nic Giolla Padráig, Síofra Ní Eílí; Irina Ní Chonchúir, Aoibhe Ní Léanacháin (c), Éabha de Búrca; Caitlín Ní Fhearghail, Ruby Ní Fhoghlú; Eve Ní Fhairceallaigh, Sadhbh Ní Mháirtín, Tara Ní Eabhóid; Tara Ní Chonchúir, Anna Nesbitt, Aoibhinn Ní hAilpín. Subs: Sally Champion, Noreen Igbeta, Olivia Ní Nia, Amelia Misiejuk, Alva Aonghusa.