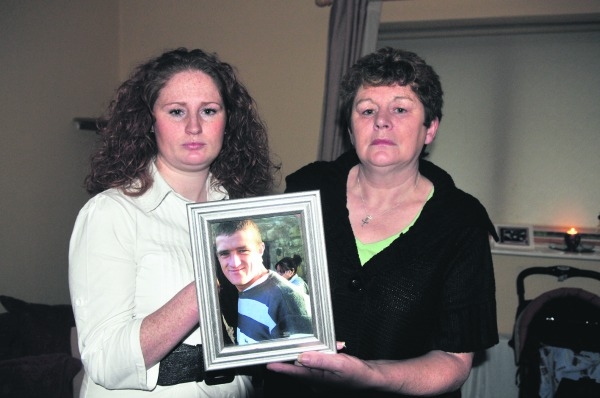 Kelly family offers €10k for information on son's death
By Mary Dennehy
THE grieving family of a young Tallaght man who died in 2008 has this week spoken of the lengths some people have to go for justice, as they offer a €10,000 reward for information on the death of their loved one.
The body of John Kelly (24) was recovered from the freezing waters of Britain Quay on October 16, 2008 and despite Gardaí not treating the case as suspicious, and the Coroner's Court ruling 'death by misadventure', his family, who live in Tymon North, are still haunted by what happened that night.
Since the tragic incident, the Kelly family has criticised how gardaí dealt with the case and the "ease" at which officers' branded John's death 'not suspicious' – opinions which the family raised in a complaint to the Garda Ombudsman and voiced through The Echo and national media, including Prime Time.
The family is convinced that somebody was with John on the night of his death and that the 24-year-old builder was "lured" to the barren area and "beaten, robbed and left to die".
Through their own investigation, the family has questioned why John's phone, cigarettes, bracelet and new runners were missing when he was recovered from the water and why there was bruising to his face and blood on his clothes.
They have also stressed that John, who had just completed a six-week stay in rehab for issues with alcohol, was heard crying out for help for more than 30 minutes on the night of his death – cries, which heard by people living in nearby apartments, resulted in numerous people ringing 999.
This week, the Kelly family contacted The Echo about a €10,000 reward they are now offering for information that leads to a conviction.
John's sister Amanda said: "It's terrible to think that a family has to pull together €10,000 in order to try and get justice for a loved one.
"We've been forced to do this not only to encourage somebody to come forward with information that could lead to a conviction but also to put pressure on the Government – make them feel ashamed that families have to go to these lengths to get justice because they are simply being ignored."
She added: "The past year has been a complete stress. We've been constantly working on John's case – it's the focus of everything we do.
"We know that there was somebody else there the night John died and we will continue to fight for justice until somebody listens."
In December the family re-issued its appeal after two letters believed to contain information on John's death were anonymously sent to Gardaí.
Amanda said: "Even after the two anonymous letters, the State has still refused to re-open the case.
"We can't continue living with this, it's too hard, but since no-one else is bothered about pursuing justice, we are left with this fight.
"We won't give up and will do whatever we have to to keep it in the public arena – and to prove that John's life was worth something."
The Echo did speak about John's case with the Department of Justice and was told, in December, that the case has been referred to the Independent Review Mechanism established by the outgoing Minister for Justice, Frances Fitzgerald, to review certain allegations of Garda misconduct or inadequacies.
No update on the progress of the case was given by the Department when contacted by The Echo this week.
Anybody with information that could lead to a conviction is encouraged to visit www.justiceforjohnkelly.com or Pearse Street Garda Station on 6669000