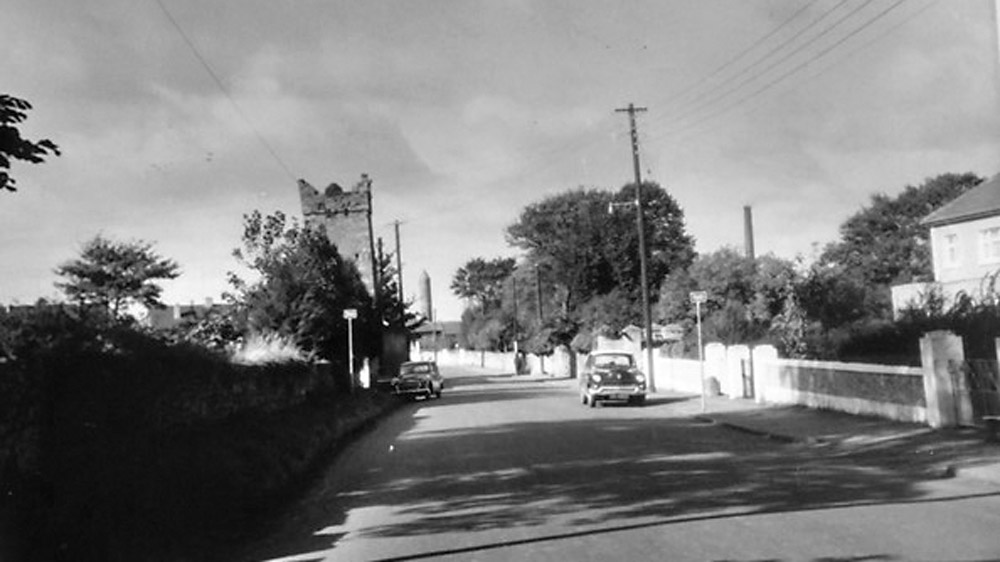 Local history with Monica McGill: Black calp limestone is part of our cherished environment
In 1547 Clondalkin was described as being "among the walled and good towns of this country". Even then, the village had five streets – Mill Street, Steeple Street (now Tower Road), New Street, Mahow or Mahon Street, and Pope Lane.
It's reasonable to suggest that Clondalkin's roadside walls were carefully constructed using black calp limestone from local quarries.
This was the material which had been used to build our 11th century Round Tower and our medieval church of St Mochua (ruined in the 1700s except for a corner, as a result of an accidental explosion).
Black calp limestone is our local stone; our cherished built environment is made of it.
It has done us well for centuries. Other places – Howth, for instance – are proud of their local stonework. They protect and promote its use. Clondalkin should be proud of ours and do likewise.
Since the 5600BC remains of a Neolithic settlement were unearthed here, Clondalkin has been an important place.
In successive centuries, various authorities – both ecclesiastical and otherwise – have vied for a piece of it or imposed taxes on it.
Thus, accurate maps became necessary and Clondalkin appears on many. They include Rocque's map (1760), Taylor's map (1816), and Duncan's map (1820).
Another, created between 1770 and 1840 and held in our National Library, is an example of other maps produced to delineate local landowners' properties for their own reasons.
An 1870 map is of particular interest regarding our traditional, roadside walls. It indicates that for more than 150 years our walls led from every direction to the centre of Clondalkin village.
They included the walls all along Monastery Road, New Road, Convent Road, Tower Road, 9th Lock Road, Orchard Road and others – all of them displaying unifying lines of roadside walls.
They literally tied the locality together like ribbons and provided a pleasing approach for everyone. Lately, however, it seems there are more and more rips and tears in the ribbons.
Our traditional walls form the backdrop to many local families' photographs. Here are just a few.
These walls are beautiful and well-constructed, using methods and tools perhaps unchanged since before Brian Boru camped in Clondalkin in 1014 before the Battle of Clontarf.
Building traditional walls like ours is not just a matter of plonking one randomly-chosen stone on top of another with a splodge of mortar flung in between. Even by glancing through Patrick MacAfee's excellent book, the reader can grasp something of the stone-mason's lingo and expertise. Here, a "dog", a "bed", "coping", and a "cramp" do not convey their everyday meanings, but something specific yet common to each master stonemason.
McAfee states that "Coping is the capping or covering to a wall that provides protection from the elements, animals and sometimes humans who might try to scale the wall." He disparages certain modern stone walls which "do not have a coping because they are filled with concrete and built in sand and cement … such walls always look unfinished."
The coping style in Clondalkin is known as "cock and hen" where the top of the wall is a line of stones placed on their edge in a "one up, one down" pattern.
This pattern is seen throughout Clondalkin where these traditional walls have been allowed to remain.
Our planning authorities would be thanked enormously if they assiduously applied McAfee's advice to all developers.
This includes "Do build copings to match the local traditional style", and avoid building stone walls "that do not follow any traditional principles. These walls sit uncomfortably in the landscape and have little relationship to what was built in the past."
He castigates non-structural use of stone and "face bedding so that the walls look like vertical crazy paving".
Caring locals say they want Clondalkin's traditional roadside walls to be saved, thereby enhancing the whole area – rather than downgrading the built environment by permitting slabs of imported stone to be adhered to a hastily erected support covered in cement which won't last.
They say that creating a supply of locally-salvaged black calp limestone would be beneficial if local quarries can't produce what's needed or if a local traditional wall is inadvertently demolished. They ask why not re-cycle old stone instead of chucking it away?
Source: The Joe Williams Archive; Patrick McAfee: "Irish Stone Walls", O'Brien Press, Dublin, 1985.
(Note: the author wishes to thank the contributor of the photographs, who wishes to remain anonymous.)